Autumn spirits and cocktails: To warm you up
12:09
updated on Feb Tue 2022 12:17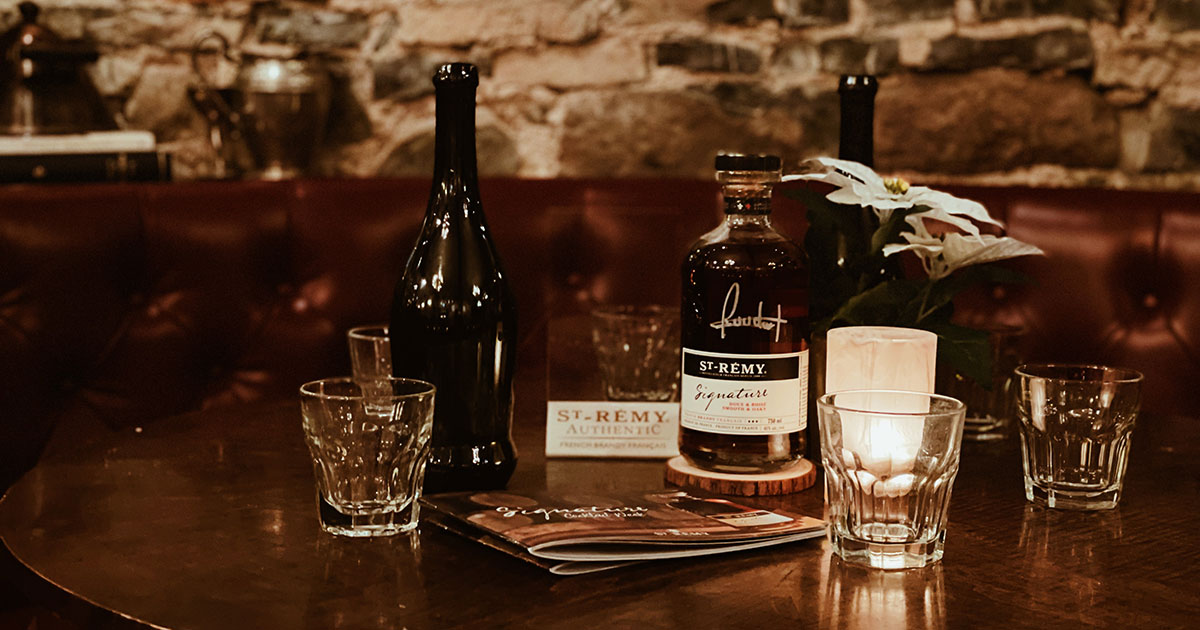 With the darkness that has fallen and while waiting for the arrival of the snow that will remain on the ground, we need a little lift. Here are some ideas of Spirits and Fall cocktails just for you.
Autumn spirits and cocktails: Vermouth, that quiet heat
Need for warmth and something reminiscent of Italy, the harmonious and herbaceous character of MARTINI Rosso, a sweet vermouth from Italy, and its little brother the MARTINI Riserva Speciale Rubino, are the perfect ingredients for intense and tasty cocktails, perfect for the colder months.
The Café Negroni
Ingredients
1 part of Martini Riserva Speciale Bitter (SAQ)
1 part of Bombay Sapphire
½ cup of coffee grains
⅛ cup of freshly sliced ginger
2 cinnamon sticks
Method
In a Mason jar, add the coffee beans, the ginger slices and the cinnamon sticks.
Pour in the Bombay Sapphire (the Star of Bombay can also be interesting), the Martini Riserva Speciale Bitter and the Martini Rosso.
Close the jar and let sit overnight or for at least two hours.
In an Old-Fashioned glass, pour 3 oz of your homemade infusion.
Add ice cubes and stir, so that the cocktail is completely cooled and mixed.
Enjoy
Manhattan
Ingrédients
60 ml of Rye Whisky (like the Woodford Reserve or the Sazerac Rye)
30 ml of Martini Riserva Speciale Rubino (SAQ)
5-6 ice cubes
1 Cerise Maraschino (For garnish) (Alambika)
2,5 ml of Maraschino liquor
Angostura Bitters
Method
Fill a mixing glass with ice cubes.
Pour in the whiskey, vermouth, maraschino liqueur and a dash of angostura bitters, and stir for about 20 seconds.
Filter into a Martini glass.
Garnish with a maraschino cherry.
Enjoy
Fever-Tree Cocktails
With the festive season fast approaching, it's time to start thinking about holiday cocktails. Fever-Tree recently launched a recipe book called Easy Mixing, with over 150 quick and delicious mixed drinks and cocktails.
Smoky Whisky & Ginger
Ingrédients
¼ oz. of bourbon like Buffalo Trace or Blanton's
Lots of ice cubes
Lemon zest
Method
Fill a highball glass with ice cubes and pour in the whiskey.
Slowly add the Fever-Tree Smoky Ginger Ale, stir gently.
Garnish with a lemon zest.
Enjoy
Tequila Tonic
Method
Combine all the ingredients in a glass over ice.
Garnish with an orange zest.
Enjoy
A little taste of the south with Rosemont Pineapple Rum
The Escape Mule is a cocktail that will transport you to the Caribbean in 3 sips. An excellent product that can replace Plantation Pineapple Rum.
Ingrédients
Method
Mix everything in a shaker
Filter with 2 strainers (that of your shaker and a second, all in one movement) into your favourite glass filled with ice cubes
Top up with ginger beer to taste
Enjoy
The Espresso Martini, a sneak peak before the Holidays with Grey Goose!
Whether you are in Montréal, Toronto or Vancouver, Grey Goose invites you, on November 23 and 24, to its Après-Dark experience. Across Canada, Café Olimpico—Downtown, the Nadège and the Pallet will transform, after opening hours, into Parisian-inspired underground bars serving Espresso Martini VODKA GREY GOOSE cocktails. Behind the bar you'll find an expert bartender and barista, working together to create the perfect Espresso Martini cocktail to make at home! You can also find our version here. Want to be present at the event, it's here.
The arrival of St-Rémy Signature, a brand new brandy
Recently arrived in Canada, St-Rémy Signature is a brand new brandy from the Rémy Martin group. This product, made from a double maturation in new oak barrels and in traditional brandy barrels will certainly satisfy lovers of the genre and will attract new customers with its sweet and vanilla side. We will tell you more about it in the coming weeks during our interview with Cécile Roudaut, Master Assembler of the world's first French brandy.