Crystal Head Vodka: Made in Canada
17:17
updated on Jan Mon 2023 19:04
As Canada Day strides, we present you with a pure Canadian vodka that you may have discovered a few weeks ago on Caesar National Day. There are several Quebec vodkas you tell me, but I wanted to make you discover Crystal Head Vodka.
Crystal Head vodka: Directly from the imagination of Dan Aykroyd
Many of you know actor Dan Aykroyd, known for his roles in Ghostbusters, The Blues Brothers and Caddyshack! It is by associating with the artist John Alexander that he developed this bottle iconic bottle whose work can be found in several museums around the planet. It was in 2008 that the brand was launched and it is now in 55 countries.
The origin of the bottle of Crystal Head vodka.
Inspired by the legend of 13 crystal skulls, skulls were used by Native American tribes for positive energy and enlightenment. The enigma and mystery surrounding the crystal skulls have become the inspiration for the design of this unique bottle.
With the talent of Mr. Alexander who made a sketch, and ultimately with Dan Aykroyd cosnulted and came to the head, not the skull.
It must be said, this bottle is really unique, it is easily noticed. Its design took two years to perfect and it is one of the most compexe bottles on the market and it is based on a real human skull! Each bottle is inspected and takes up to 16 times longer to make. Produced in Europe by leaders in the field since the European crystal gave the clarity of the glass required by the founders.
The liquid inside the Crystal Head Vodka
Vodka is produced by distilling high quality Canadian peach and cream corn grown exclusively in North America. This type of corn is known for its white and yellow grains and its distinct sweetness. It is certified kosher and naturally gluten free. For the water that composes it, it is pure water from St. John's, Newfoundland, and is then mixed with the neutral brandy. It must be said that the province of Newfoundland, Canada, is the easternmost point of North America and even has its own time zone. Some of the purest forms of water are found in this part of the world. Vodka is produced in St. John's, Newfoundland, making it a totally Canadian product. Vodka is distilled four times in a traditional column still
Vodka is filtered seven times
Triple filtered with activated charcoal
Triple filtered through 10,000 Herkimer diamonds
Final micro-filtration Without additives
No citrus oil
No glycerol
No added sugar
To taste, you will discover an aroma of neutral grains with a delicate touch of citrus. Its texture is silky and creamy with a hint of sweetness and vanilla. In the final, it's sweet and creamy.
But that's not all.
The Aurora by Crystal Head Vodka.
A new expression of Crystal Head vodka has been created to celebrate the Aurora Borealis, the most vivid aerial phenomenon that gives this natural light display, with its beauty and mysterious visual properties with its be and his mysterious visual properties.
The latter is a wheat-based vodka, like the base of the Grey Goose. Wheat is not Canadian, however, but is grown on a family farm in Yorkshire, England. This vodka tastes drier, bolder and spicier than the original. Again, without additives and certified kosher.
Again, it is produced from Newfoundland water in St. John's, distilled five times in a traditional column and filtered a total of seven times
Triple filtered with activated carbon – a single filtration for 6 hours to remove impurities
Triple filtered through over 10,000 semi-precious quartz crystals known as Herkimer diamonds
Final microfiltration before bottling
A different bottle also for the Aurora
The crystal head bottle is placed in a sealed chamber and is electrically charged. As a result, two powder metals are activated seven times and released into the pressure chamber. The powder is drawn to the electrically charged bottle – covering it completely. The bottles are then fired at high temperatures, creating a unique iridescent metallic finish.
A beautifully designed bottle with a superb original decorative finish with extremely limited production. Also, note that there are no two bottles that are alike, each one is therefore a true work of art. Here is an ultra-premium vodka without additives. The latter won a gold medal at the San Francisco World Spirits Competition 2016.
On the nose, these are lively notes with delicate floral aromas and a subtle hint of anise. Warm with notes of strong pepper and a touch of sweetness. You will find a dry and warm sensation in the final.
Some cocktails with Crystal Head vodka
Smokin' Head Caesar
INGREDIENTS:
2 oz Crystal Head Vodka
5 oz. Clamato (we are Canadian then it will be the Clamato)
A Worcestershire sauce fillet
A net of hot sauce
A small dash of liquid smoke pad of your choice
INGREDIENTS FOR GLASS FILLING:
1/4 c. salt
1/4 c. pepper
1/2 c. smoked paprika

DIRECTIONS:
Rub the edge of the glass with a lemon wedge and soak in the salt, pepper and smoked paprika mixture.
In a shaker half filled with ice, add all the ingredients and shake well.
Pass through the pre-circled glass filled with ice.
IDEAS OF OPTIONAL FITTINGS:
Celery and lime
Mini bacon balls coated with bacon and two hot peppers
Skewer of scallops and hot pepper
Long bean kebab cut in half
Moscow Mule
Here, the easiest drink to make! Thanks to my friend Mathilde for inspiration!
INGREDIENTS: 
1/2 oz lime juice
2 oz. Crystal Head Vodka
6 ounces. Fever-tree ginger beer

INSTRUCTIONS:
Squeeze the lime juice into a Collins glass (or cup at Moscow Mule) and place in the used shell.
Add 2 or 3 ice cubes, then pour into the vodka and fill with cold ginger beer (no Ginger Ale please).
Serve with a stirring rod.
Bittersweet Endings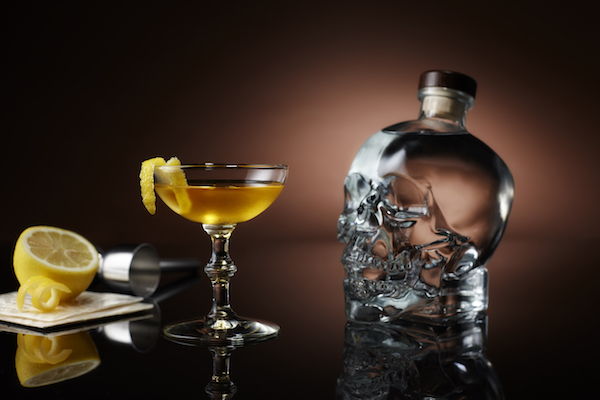 INGREDIENTS:
2 oz Crystal Head Vodka
1 oz. Bénédictince
angostura bitters
INSTRUCTIONS:
Mix all ingredients in a shaker with ice and gently.
Go through a chilled cut.
GARNISH:
lemon twist
To purchase Crystal Head vodka
Aurora Vodka Crystal Head in LCBO