Dishbé Dios cocktail by Jeremy Bourgeois of Milky Way Cocktail Bar
13:58
updated on Oct Thu 2022 16:39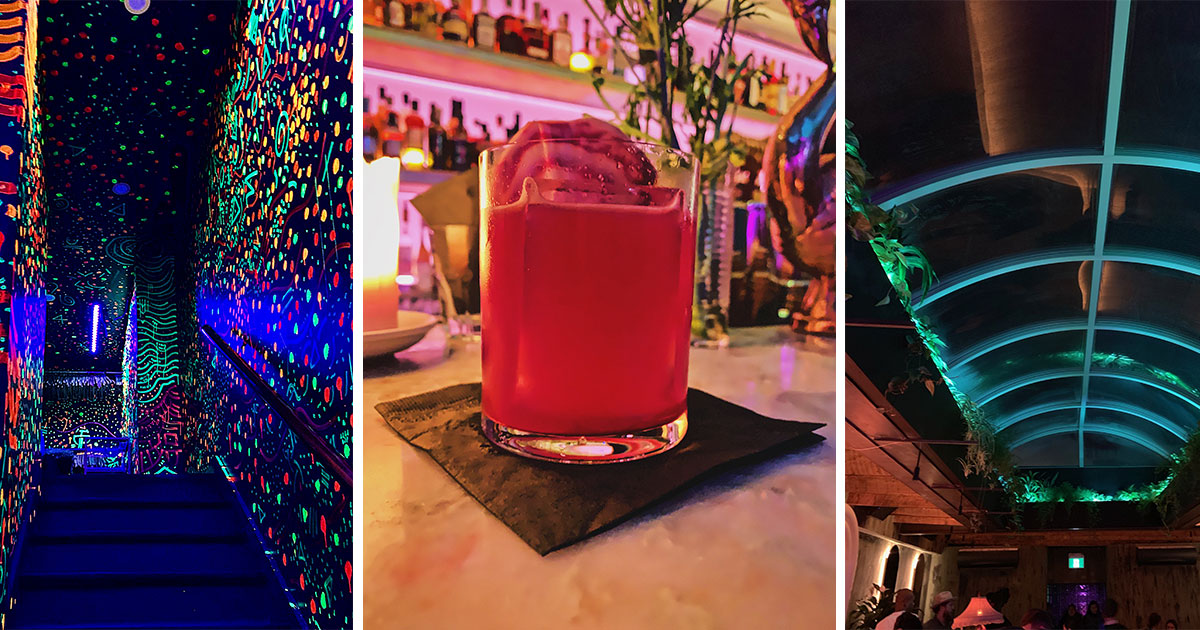 New since this week, every Thursday, we offer the series "Behind The Bar" to make you discover cocktails that you can enjoy in the best cocktail bars in Canada. For those who cannot go, we will give you the recipe. Want to be informed as soon as you put it online? Sign up for our newsletter! We start with the Dishbé Dios cocktail by Jeremy Bourgeois (now in France) when he was at the Milky Way Cocktail Bar, one of the trendiest bars in Montreal.
Dishbé Dios cocktail: The origin of the cocktail
Where did you get inspiration for this cocktail?
The inspiration came to him during his trip to Oaxaca in Mexico, where there are several mezcalerias and every time I went there, they always offered a little something to eat between each mezcal and they used that a bit like a flavor enhancer and it changes a little the perception of taste, whether you eat chocolate or beetroot as in this cocktail. So, tasting these little bites, I realized that it totally changed the taste of the mezcal and it accentuated the taste and erased some. So, that's how I came up with the idea.
And what do we find in the Dishbé Dios cocktail?
After I wanted to make a variation on a classic cocktail, the Penicillin, a cocktail that irrationally, I do not appreciate so much, but I love the mezcal a lot. And I wanted to make a cocktail that looks like it, but changing some elements. That is to say who is not this cocktail, but who can remind you. So, I used the beetroot, I found it super interesting with mezcal, because it masks the unpleasant side of mezcal for a person who would not be used to it, like the very smoky side, for example. It brings out the earthy and sweet flavors of mezcal. We also find the ginger that is in Penicillin. I am someone who loves ginger, freshness, spicy side too. I stay on the whiskey, but I used Rye instead of Scotch that we find in the origin of the cocktail. For the peaty, smoky side, I put the mezcal precisely, I also always put a few strokes of absinthe that plays the role of flavors enhancer, it comes to transplant, give roundness and balance the cocktail. With its pretty pink color, it goes completely in our beautiful scenery. It's a simple cocktail, shaken, it's very accessible for people who are not used to drinking the mezcal it's in there, and they discover a new spirit, which is for us, people of the industry, very popular.
And the name, Dishbé Dios, what does it mean?
It's a hello, a cheer, in Zapotec, which is the language of the Aztecs to say Goodbye and I found it interesting, so that's where the name comes from.
The Dishbé Dios cocktail recipe
We give you the recipe so you can do it at home if you cannot go to the Milky Way Cocktail Bar.
1 oz of beetroot cordial (recipes at the bottom)
3 dash of Absinthe
1 oz of lemon
1 oz of Mezcal Convite Essencial (Private Import)
Beetroot cordial
For 1 liter of Chioggia beetroot
250 gr of Chioggia beet juice
750 gr of ginger juice
Sugar 1/1
Make a syrup with the beetroot and the gin and the same amount of sugar when everything is well dissolved and warm, cut the fire. Cool to room temperature then refrigerate for 24 hours. Filter and use. Keep cool.
Preparation
Put all the ingredients in a shaker
Filter on a big ice cube
Decorate with a slice of Chioggia beetroot
Milky Way Cocktail Bar
1886 Centre, # 2
Montreal, QC
H3K 1H9