Italian Aperitivo: Going to Italy for the Aperitif!
13:08
updated on Jul Wed 2022 00:01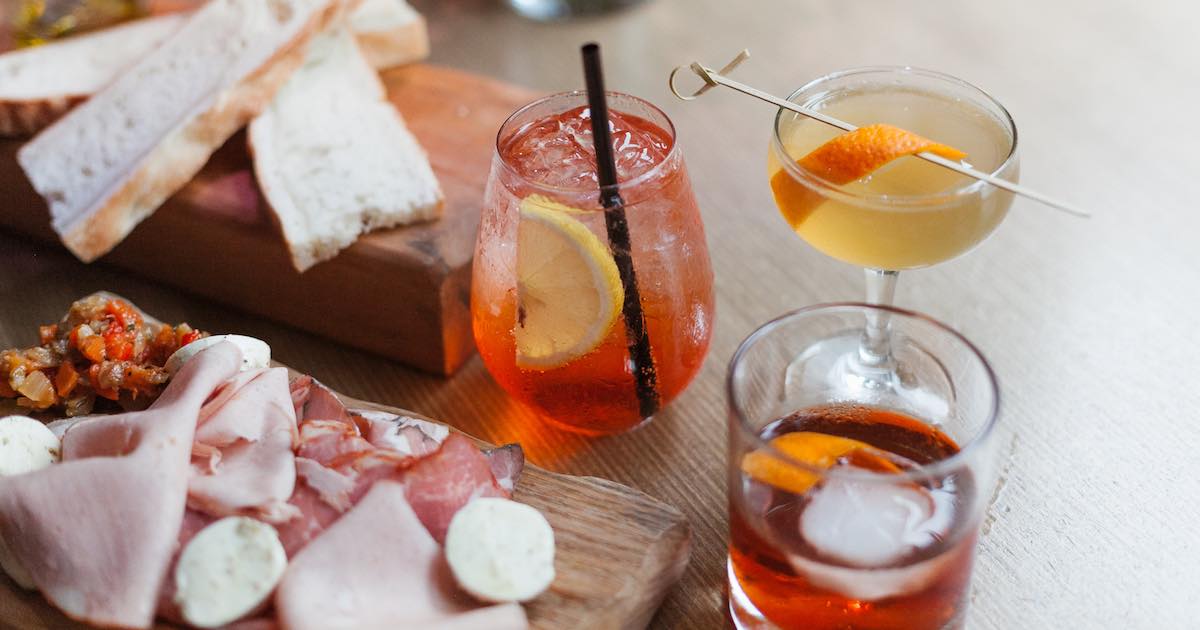 Italian is known to be festive.  So we have decided to offer you some very Italian suggestions for the Italian Aperitivo and more!
Classic cocktails for the Italian Aperitivo.
You probably all know the Spritz. Made with an Italian Apero, but in addition to the classic Aperol of the Campari family we will propose some others. But let's start with his story.
The story of Aperol Spritz and the Aperol Classic
The story of this iconic and memorable cocktail is very interesting. In the nineteenth century, the Veneto then occupied by Austrians and Militaries who roam the taverns of Venice in search of a drink reminiscent of beer but find only strong wine of the region. Not being used to it, he decided to lengthen the drink with fresh water "spritzen mit wasser", literally "sprinkling water". This method is still used in certain regions such as Trieste in Italy or in Eastern European countries such as Romania, Moldova or Hungary.
Thus, the Aperol spritz was born from this ingenious invention to add water to this liquor. Venetians modify the recipe by replacing the water with prosecco (sparkling white wine) and Aperol is added to flavor the bitter orange cocktail. At this moment, Aperol Spritz is flourishing in all the bars and cafes in the country. Obviously, we recommend you to consume this cocktail in moderation. Cheers!
The Santoni Aperit: Pure Italy
In addition to the classic Aperol, there are also other alternatives like Aperit:
This is a bright orange color with a lively character, its distinct flavor is sweet but tart. Aperit is a deliciously refreshing Italian aperitif. Infusions of oranges, herbs and quality roots are mixed with rhubarb, which gives the drink a sweet and balanced bitterness that gives perfect harmony to the senses.
Capo Capo, Italian, but with Canadian roots
Want to be a little more local while keeping the Italian side? Capo Capo is a brand new Italian app made by guys from Toronto, but made in Trentino, Italy. The best of both worlds! Distributed by our Ambassador Isaac Delaney of Delaney Wines & Spirits in Quebec!
Before the Spritz, a simple recipe, Alta Pianura
A crisp and refreshing drink that balances the intensity of lime with rich agave, subtle cherry notes, botanical depth and a slight bitterness.
Ingredients
¾ oz Capo Capo
¾ oz Ocho Blanco
¾ oz Luxardo Maraschino
¾ oz Lime
Preparation
Combine ingredients into mixing tin.
Add good quality ice.
Shake hard and strain into your favourite coupe.
How to make the perfect Aperol Spritz for Italian Aperitivo
It's quite simple, we start with the ice, then we pour the Prosecco, the Aperol and we add a little sparkling water. Decorate with an orange slice. This method of preparation prevents Aperol from settling in the bottom of the glass.
Preparation time: 5 minutes
Drop ice cubes into a wineglass
Pour Prosceco and your aperitif to match
Add a splash of sparkling water
Decorate with an orange slice
But what Prosecco to serve for the Italian Aperitivo?
We recently had an interview with one of Prosecco Fiol's founders, Gian Luca Passi, here. Want to know more, follow the hashtag #HowDoYouFiol on Instagram.
You are less into Spirits? Peroni is what you need for your Italian Aperitivo!
This delicious Italian beer made its debut in the Canadian landscape just a year ago. You will find it in different restaurants and grocery stores.
Add some Burrata, speck, prosciutto, and there you go! You are well equipped to succeed an Italian Aperitivo tonight!
Wha t a salad for the Aperitif? Try our Burrata, peaches ans strawberries salad, it's delicious!