Long cocktails to keep the summer going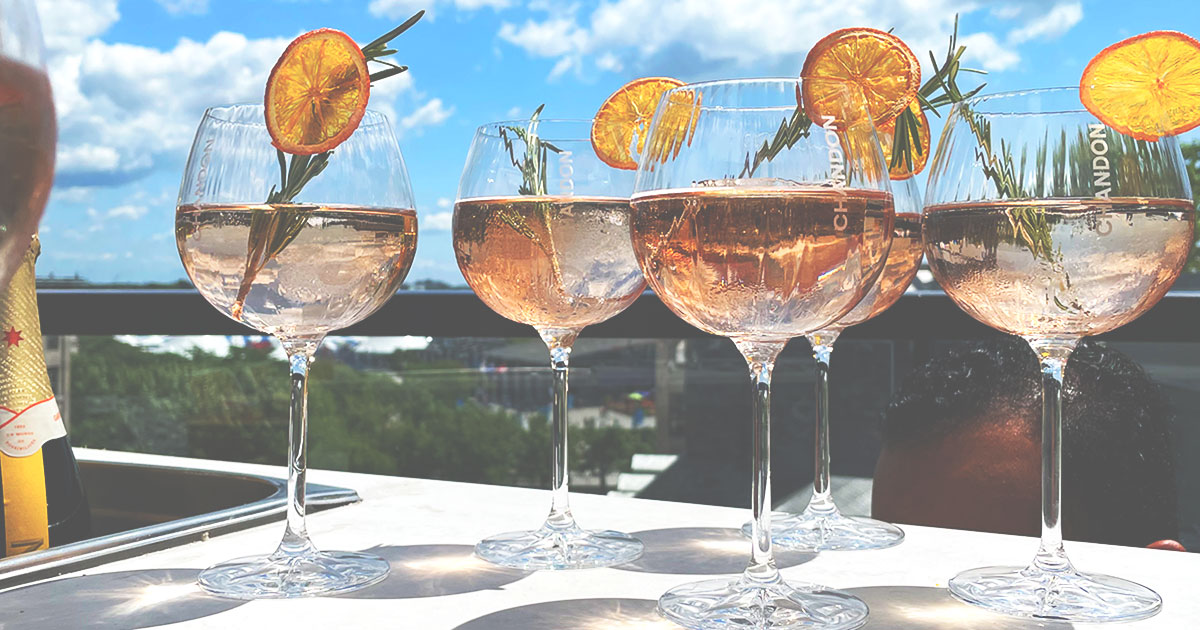 With the warm weather finally here and many of you still on holiday, it's the perfect time to enjoy delicious cocktails lying down to prolong the summer. Here are some suggestions perfect for happy hours, parties, picnics, luxury camping breaks or wonderful evenings out with friends!
Chandon Garden Spritz : The New ready to Drink with panache!
Many of you are undoubtedly fans of Aperol Spritz, and I think this is the perfect complement to it. Complementary because it's lighter, sweeter and less bitter. The two can easily coexist on a fine summer's evening. Created with the bubbles of Chandon sparkling wine from Argentina, it's a fresh and delicate ready-to-drink, and transforms sparkling wine by adding a unique touch: a bitter orange liqueur, made from Argentine oranges, herbs and spices.
Serve the Chandon Garden Spritz in a large wine glass, ideally with one large ice cube to enhance the flavours, accompanied by a slice of dried orange and a sprig of rosemary.
Interestingly, it has half the sugar content of most other products in its category. For those who don't like the bitterness of the competition, you'll find a perfect balance of sweetness and bitterness.
Want to try it? It's the perfect complement to the Nibbl "Cheers to you" cheese platter (try the code Chandon15 for a 15% discount on the "Cheers to you" basket, the perfect complement to the Chandon Garden Spritz).
The Chandon Garden Spritz is available in SAQ
Two cocktails with Disaronno to bring Italy to your glass!
Two flavours of Disaronno (the original and Disaronno Velvet), two perfect cocktails for summer!
The Disaronno Fizz
A low-alcohol drink with a strong personality. The original taste and unmistakeable aroma of Disaronno combine with the bubbles of soda and lemon juice for a fresh, thirst-quenching cocktail.
Ingredients
1,5 oz of Disaronno Original
5 oz of Fever-Tree Soda
Fresh lemon juice
Method
Pour the Disaronno into a glass filled with ice
Add a little fresh lemon juice and soda.
Stir gently
Disaronno Velvet Batida
This cocktail really does have a taste of the tropics, with its coconut and rich, creamy yet light texture.
Ingredients
1,5 oz of Disaronno Velvet
1,5 oz of Coco Water
Crushed ice
Method
Fill a glass with crushed ice
Simply pour yout Disaronno Velvet
Add your coconut water
Stir gently
Garnish with a piece of coconut
Enjoy
Vary your long cocktails with Favuzzi Italian Sodas!
The Favuzzi company (whose owner Michel is one of our occasional collaborators), which we love at Gentologie, is proud to share with us the knowledge of Italian craftsmen with all the products in their range.
These new sodas, made with water from Etna, are no exception to the rule, bringing new flavours to the market as well as the classics.
I created a cocktail, the Campari Favuzzi, using one of their products, which you can discover here. You'll find a Sicilian blood orange soda, a sparkling Sicilian lemonade, a Sicilian mandarin orange soda, a lemon and mandarin tea, a peach and cantaloupe tea, a ginger beer and a Sicilian lemon tonic!
The Campari Favuzzi
Ingredients
2 oz de Campari
½ bouteille de Soda d'oranges sanguine siciliennes de Favuzzi
Soda Fever-Tree pour compléter
Method
1. In a highball cocktail glass, fill to the brim with ice.
2. Pour in 2 oz of Campari
3. Pour half of a bottle of Favuzzi Soda.
4. Add 1 oz Fever-Tree Soda
5. Stir
6. Enjoy
7. See the Amalfi Coast (optional)
Enjoy your tasting!