Café Pista Coffee Shop: From bike to brick and mortar.
16:09
updated on Oct Sun 2020 16:43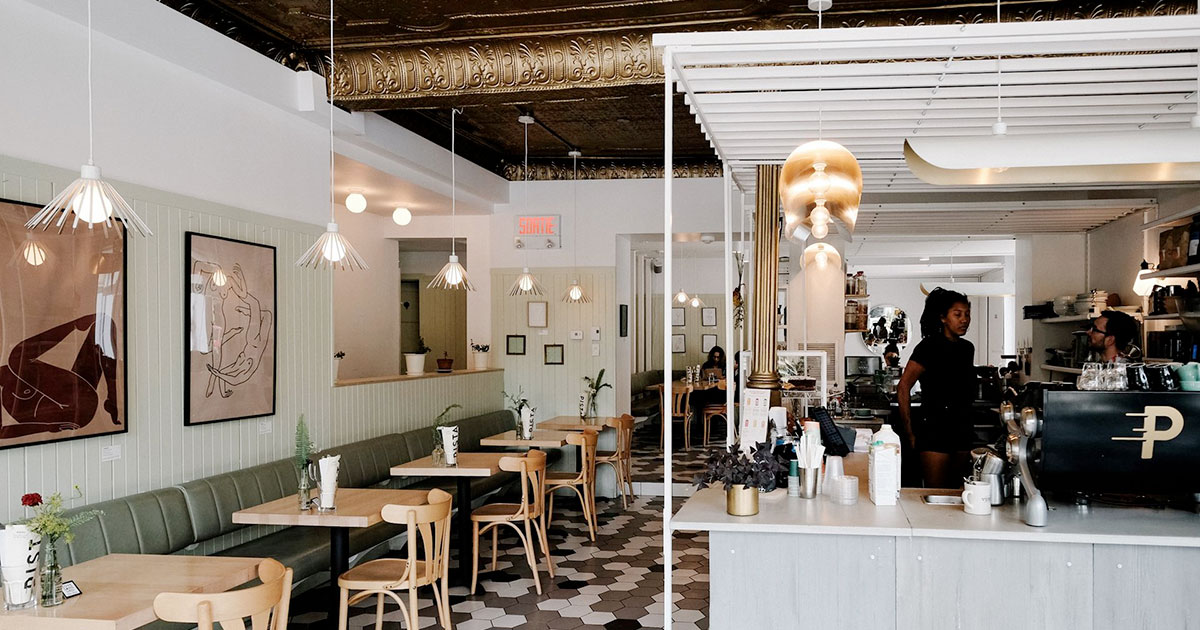 Some time ago I knew the Café Pista Coffee Shop, long before they seized their beautiful place on the rue Beaubien just around St-Viateur. Before pista, it was a mobile coffee on a bicycle, and yes. I think if I remember correctly, the first time I saw them was at the Jackalope event in 2014. Yes, it's been four years now. It was a great meeting to discover this bike that made espresso (do not say expresso please, especially if you travel in Italy). A few years later, in the spring of 2016, Café Pista took place, as I said earlier, at 500 Beaubien Street East.
Café Pista Coffee Shop: From biking to the sweet spot
Café Pista Coffee Shop would certainly have been able to stay with the bike, but the demand being so strong during the events (remembering the First Fridays among others) has certainly pointed the owner Maxime Richard (now with two new co-owners) to the building a physical location. The space is simply beautiful. Very different from its near neighbor Cafellini being much larger and serving brunch, it is distinguished by an excellent coffee and a space where it is good to find. Busy days of weeks when many freelancers have made their headquarters, we greatly appreciate the summer terrace.
Brunch and Coffee on the Menu.
While many cafés focus on coffee, the appeal of Café Pista is a complete brunch menu.
Granola
Yogurt, granola, seasonal fruits and nuts.
Tartine & Homemade Ricotta
Homemade ricotta, honey and nuts.
Green salad
Cream cheese bagel
Tartine and Homemade Jam
Croissant Dej
Egg, ham and cheese.
Pista Bowl
Green salad, avocado, gravlax and poached egg.
Tartine
Avocado, poached egg and greenery.
Extra gravlax offered
Bagel
Cream cheese, salmon gravlax and small salad.
Still nice as a menu. We can do worse and with local ingredients, this is where the interest of the latter lies. Ok, maybe not for the avocados but hey. But I like to believe, as their website says, that they get their supplies from producers here: Ferme Birri, one of the only farmers in the Jean-Talon Market with the Ferme des Quatre-temps Farm, La Laiterie Chagnon , Kombucha form Les Fous de l'Ïle, Loop Fresh Juices, Henri Soda, Autumn Bakery (the croissant on the cover picture came from there) and Dave Plant-Pastry Chef. It's already a great effort on the part of this local business.
It's fine brunch, but what about the coffee?
You'll find Canadian coffee roasters: Kittel, ZAB and Structure de Montréal, as well as Pilot and Cut Coffee from Toronto. They also have roasters invited each month to make you discover different tastes, it's quite interesting. Not to mention the cups of Cecile Gariépy in which coffee is served. I must say that I have a little less coffee photo from Pista because it is a little less on my way, but it is still a must. And even if I do not go there often, the coffee is always perfect. I really love Flat White and Cortado, but all are a delight.
Want them in your event?
Yes, and it was probably the first meeting point for the Café Pista of most of you. They are in a lot of events, we think about the Pier Art Faire, Made With Love Barista, and even more, it's one of their strengths. They have a great setup, it's too perfect! With the upcoming elections (and the thousands of rallies, give your volunteers good coffee and have local coffee instead of encouraging chains.
Café Pista  Coffee Shop
500 Beaubien East
Montreal, Qc
H2S 1S5
More locations on their website
Share the post "Café Pista Coffee Shop: From bike to brick and mortar."