Nespresso Boutique at Carrefour Laval: Beauty and Innovation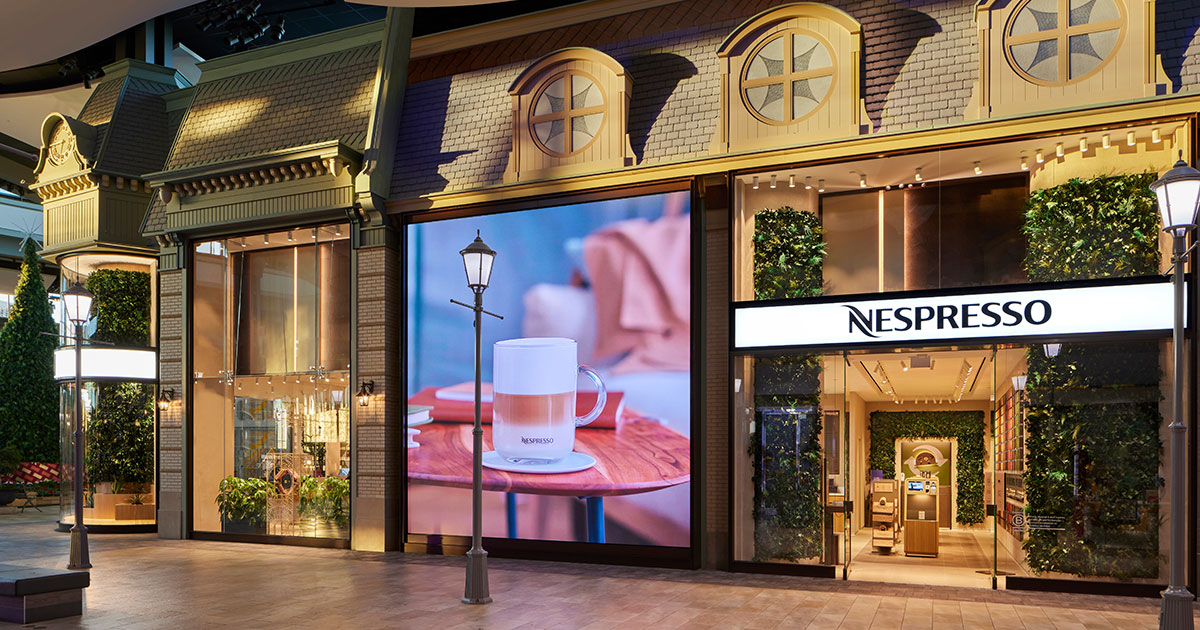 At the beginning of November 2022, Nespresso Canada announced the official reopening of its Nespresso boutique at Carrefour Laval after a few months of renovation work. Did you know that this boutique is ranked as the most efficient in North America? When you return, if you haven't already done so, you'll find an enhanced and innovative shopping experience in your favourite coffee shop on the North Shore of Montréal. The official inauguration of the boutique took place on November 9 in the presence of Alfonso Troisi, President and CEO of Nespresso Canada, partners of the organization and special guests, including Gentologie.
The Nespresso Boutique at Carrefour Laval: Performance and Innovation on the Menu
Opened 8 years ago, the boutique is following the evolution of consumer preferences and is adapting to changes in order to better serve its growing clientele and enhance the in-store experience. In this new space, you, the Nespresso coffee consumer, will have access to a more personalized customer experience and inspiring exchanges with in-store coffee specialists. You will learn even more about this new world.
"More than ever, consumers are looking for immersive shopping experiences, personal interaction with experts and more human connections," says Alfonso Troisi. "We recognize that our boutiques play a key role in engaging consumers in the Nespresso universe. The reopening of the Carrefour Laval boutique will once again contribute to reaffirming our position as a leader in the retail industry. 
A unique and modern shopping experience
You certainly want to know what will make this boutique a discovery and make you want to return. First, the Nespresso boutique at Carrefour Laval offers self-service and virtual queuing stations that will allow you to explore the premises at your own pace and complete your transactions yourself, which will undoubtedly be faster and more convenient for people in a hurry.
In addition, a pick-up area for orders placed in advance on the Nespresso website is also available.
Want to learn even more about your favourite hot beverage? The new Atelier 360 area is the largest workshop table in Canada where you can enjoy expert coffee workshops, coffee tastings and other special events. Speaking of tastings, to take the coffee experience even further, you can personalize your coffee tastings with custom Art Latte or by customizing accessories purchased in-store with an engraving machine (with as many characters as possible, be concise).
Always faithful to its corporate values such as sustainable development, Nespresso, recently certified B Corp, will push even further recycling capacity in the client's journey, notably with the increase of space in the boutique and the introduction of interactive screens facilitating the task and informing you on the scope of your gesture. In addition, in an effort to increase its sustainability efforts, Nespresso recently launched a pilot project in Europe with a paper-based capsule. 
A Local and International Ambiance
Nespresso's design and efficiency have always been their strong points since the beginning. This includes the machines, but also the shops, where the changing décor is proof of constant innovation. To add a local touch, just like in the Montréal boutique, Nespresso called upon Quebec artist Pascale Girardin, who decorates the world's most beautiful buildings, including the Four Seasons Hotel Montréal, to create a unique chandelier. 

'The unique design of the boutique is a nod to our beautiful province, featuring a chandelier sculpted by Quebec artist Pascale Girardin and elegant flooring reminiscent of the Fleur de Lys,' adds Anne-Valérie Guidollet, Vice President Sales and B2C Channels.
Inspired by innovations in other markets, including new design elements recently introduced and piloted in the Nespresso boutiques in Vienna, London and Lausanne, the Laval boutique is now a shopping environment where all the senses are stimulated and where it's good to discover and enjoy coffee in its most beautiful form. 
Discover now for your holiday shopping, including the Nespresso collection by Pierre Hermé that you can see here. 
Discover the shop, located between entrance 3 and 4 of the CF Carrefour Laval, and place your order by clicking on this link.
Share the post "Nespresso Boutique at Carrefour Laval: Beauty and Innovation"