Luminary Series: A Creation of The Dalmore and V&A Dundee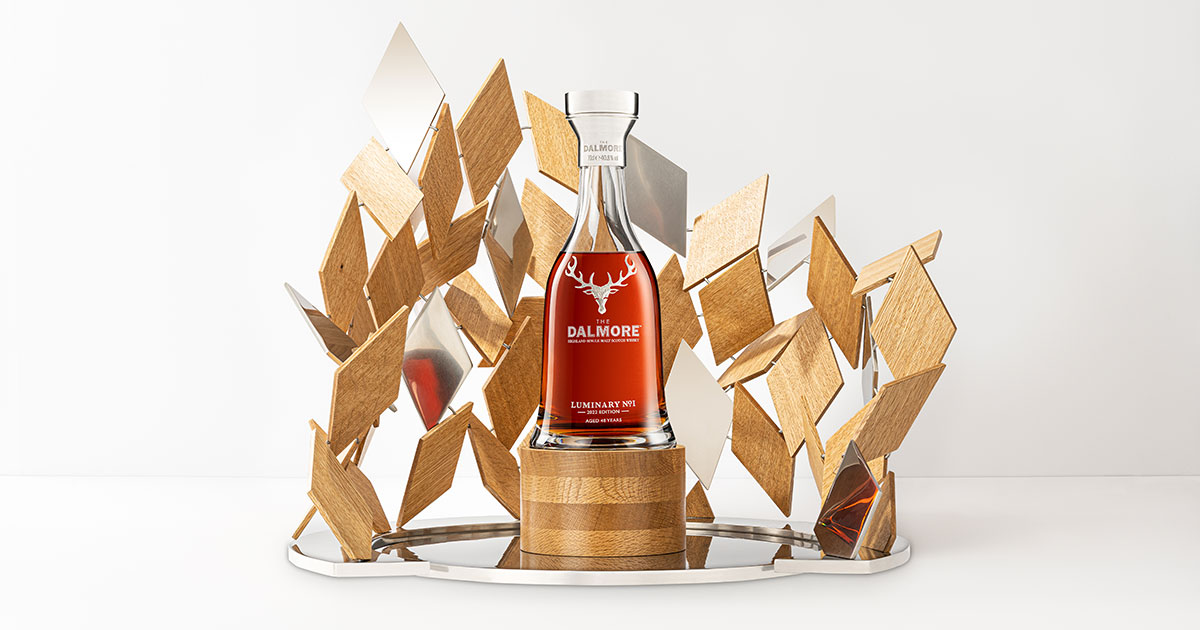 A unique series of rare whiskies and limited edition collections, created by luminaries in the world of whisky and design, this is Luminary No.1, 2022 edition, the first milestone in the series designed with the world-renowned architect of V&A Dundee, Kengo Kuma, and his protégé, Maurizio Mucciola. The master's design is inspired by the invisible particles of nature that shape beauty. It comprises 48 diamond-shaped pieces and houses the 48 Year Old Luminary No.1 Rare.
 The Dalmore x V&A Dundee Partnership
In a groundbreaking four-year partnership, The Dalmore, the fastest growing luxury single malt whisky on the planet and featured in our most recent podcast (In french, written translation coming soon), and the V&A Dundee, Scotland's design museum (V&A for Victoria & Albert, the world's largest art and design museum), seek to promote and nurture exceptional creative talent by committing to creating a global platform for contemporary craftspeople and designers and inspiring the next generation of creative thinkers to reach their full potential.
This four-year collaboration enables the V&A Dundee and The Dalmore (read more about it in one of our Constellation Series articles) to curate and champion exceptional design on a global scale and provide crucial support to the museum. Indeed, in 2021, The Dalmore donated £100,000 from the record-breaking sale of the unique and extremely rare Decades No.6 collection at Sotheby's Hong Kong in honour of the partnership.
The Luminary Series Collection
Let's talk a little more in depth about this sublime collection of single malts. These are presented by exceptional talents from the world of whisky and architectural design. The three-year series will tell the stories of visionary craftsmen who perfect their craft and celebrate luminaries who inspire to excel.  From 2022, the series will see the release of three editions, each containing two whiskies from the Luminary series: 'The Rare' and 'The Collectible'. Each edition of the Luminary Series showcases the talent of a visionary designer by presenting a unique bottling made by Dalmore's whisky makers.
The LuminarySeries – Luminary n° 1, 2022 Edition
The inaugural chapter of the series showcases the combined skills of two masters and their protégés: internationally renowned architect Kengo Kuma and Maurizio Mucciola, the principal architects of the V&A Dundee, in collaboration with master distiller Richard Paterson OBE and master whisky maker Gregg Glass. The 2022 edition is a tribute to the cultural heritage of these luminaries: a shared sanctity of natural materials, a deep respect for the creative process and a commitment to the pursuit of lifelong potential and excellence.
Luminary n° 1 — Rare — 2022 Edition
Co-designed by Kengo Kuma and Richard Paterson OBE, The Rare is a unique creative collaboration that unites culture and craft. This seminal and rare 48 Year Old Single Malt marks a milestone in the ongoing creative collaboration between Kuma and Paterson, which began in 2020 alongside the announcement of a four-year partnership with V&A Dundee.
Kengo Kuma shares, "My relationship with The Dalmore, and with Scotland, is one born from a love of natural materials and the unfolding of stories over a lifetime. In my work with Richard Paterson and The Dalmore, I see a same respect for the environment, and the same careful attention to the way great design must continue to evolve over time. The glorifier design echoes this sensibility, inviting all who see it to consider the elements, seen and unseen, that have gone into its conception."
The Rare, of which only three bottles will be created, is housed in a unique sculpture designed by Kengo Kuma, comprising 48 particles and handcrafted in Japanese Oak, Scottish Oak and glinting steel. It holds an immensely scarce and valuable whisky that has been hand nurtured by Master Distiller Richard Paterson OBE for 48 years and is finished in casks of Scottish Tay Oak and of Japanese Oak air dried at the distillery for years.
The first of the two sculptures created to display The Rare edition will be sold at Sotheby's London with a portion of the proceeds donated to V&A Dundee, while the second will be held at the distillery's Highland home.  The original designer's proof of the sculpture will be on public display at V&A Dundee from the end of October.
Richard Paterson, OBE, says of the release: "It is a pleasure and a privilege to collaborate with Kengo Kuma once again, and to draw inspiration from his rich experience in bringing this new release to life. The Rare is a wonderful celebration of cultural heritage. I am exceedingly proud of this exceptionally scarce single malt which tells a beautiful story of the coming together of disparate parts into a greater whole."
In the Luminary No.1 — 2022 Edition — Rare Aged 48 Years Bottle
An immensely rare and valuable whisky hand nurtured by Master Distiller Richard Paterson for 48 years. The Luminary No.1 Rare is a unique assemblage of rare and aged Dalmore whisky with influences from Oloroso and Apostoles Sherry, Vintage Port and American White Oak. The assemblage has been finished in Scottish Tay Oak and Japanese Oak casks, air-dried at the distillery for years.
The Aroma: A multitude of exotic nuances come together in true harmony, black morello cherries, roasted coffee beans, Ogen melon drenched in Port wine and honeysuckle.
The Palate: An energetic vibrancy of Black Forest fruit, maple syrup, crushed Pontefract cakes and thick chocolate cake.
Finishing Notes: Demerara sugar, Seville orange marmalade and apricots.
40.8% ABV | Non-Chill Filtered | Natural Colour[
Luminary No.1 — Collectible – 2022 Edition
In a collaboration between their protégés, the Collectible echoes its Rare partner in design. Gregg Glass created an innovative 15 Year Old Single Malt that spotlights his passion for wood and flavour, which is this Collectible Edition held in a contemporary case designed by Kuma-san's protégé Maurizio Mucciola.
The Collectible begins its journey in American white oak and finished in hand selected Italian Amarone Red Wine casks and bespoke 'Kintsugi' Casks, which were crafted specifically for this Limited Edition and made from Scottish Tay Oak, sourced from an upcycled tree found on the banks of the River Tay, Japanese Mizunara Oak and American White Oak – as a nod to the heritage of each Luminary.
Mucciola skilfully pays homage to his mentor's design vocabulary, using the same animated geometric particles scattered across the case. His design celebrates this unique world-first release and the importance of channelling potential with material components. Approximately 15,000 bottles of the Collectible Edition will be made available at an RSP of $500 CAD, for purchase from the finest luxury retailers worldwide. BC Liquor will have the Americas exclusive.
In the Luminary No.1 —2022 Edition  — Collectible Aged 15 Years Bottle
Matured in American White Oak. Finished in hand selected Italian Amarone Red Wine casks and bespoke Virgin 'Kintsugi' Casks crafted from Scottish Tay, Japanese and American White Oak. This exceptional whisky balances the natural beauty of locally supplied heritage barleys with experimental maturation techniques; its appearance draws inspiration from the creators' finest works to date, resulting in a beautifully balanced and inspiring single malt with multiple layers of flavour.
The Aroma: Warm and welcoming rich fruits, panna cotta, honey roasted almonds and citrus oils
The Palate: Multi layers of rich and uplifting citrus, chocolate, cherries, figs, brioche, and moist ginger cake
Finishing Notes: Waves of dried fruits and honey entwine with balanced wood spice and cacao
46.8% ABV | Non-Chill Filtered | Natural Colour
The Design Concept
The design of The Dalmore Luminary Series No.1 originates from the quest to discover a point of convergence between the complex skills of design and whisky-making. As Kuma is world-renowned for his innate ability and consistent approach to marry architecture with nature, understanding location is integral in making each project exceptional.
The importance placed on the extensive use of natural materials, especially wood, is Kuma-san's signature and is reflected in his design of V&A Dundee's interior. At The Dalmore, the location's fundamental elements of soil and timber play an intrinsic role in the whisky-making process and in giving its distinctive flavour. Kuma and Mucciola establish a poetic connection between design and whisky-making: highlighting mutually utilized materials, taking inspiration from the power and natural surroundings of each destination, and honouring their friendship with V&A Dundee that brought together the project.
Kuma-san lends his distinctive design identity to exalt this rare bottling with a 48-piece sculpture – inspired by the invisible particles of nature as well as the age of the liquid. The sculpture highlights the architect's signature gentle integration and intimate understanding of natural materials and negative space, making use of metal alongside wood in a nod to 'Kintsugi' artistry, an ancient Japanese art where broken pottery is repaired with gold, to incredible results.