Canada's Best New Restaurants 2022 by Air Canada: Discover the finalists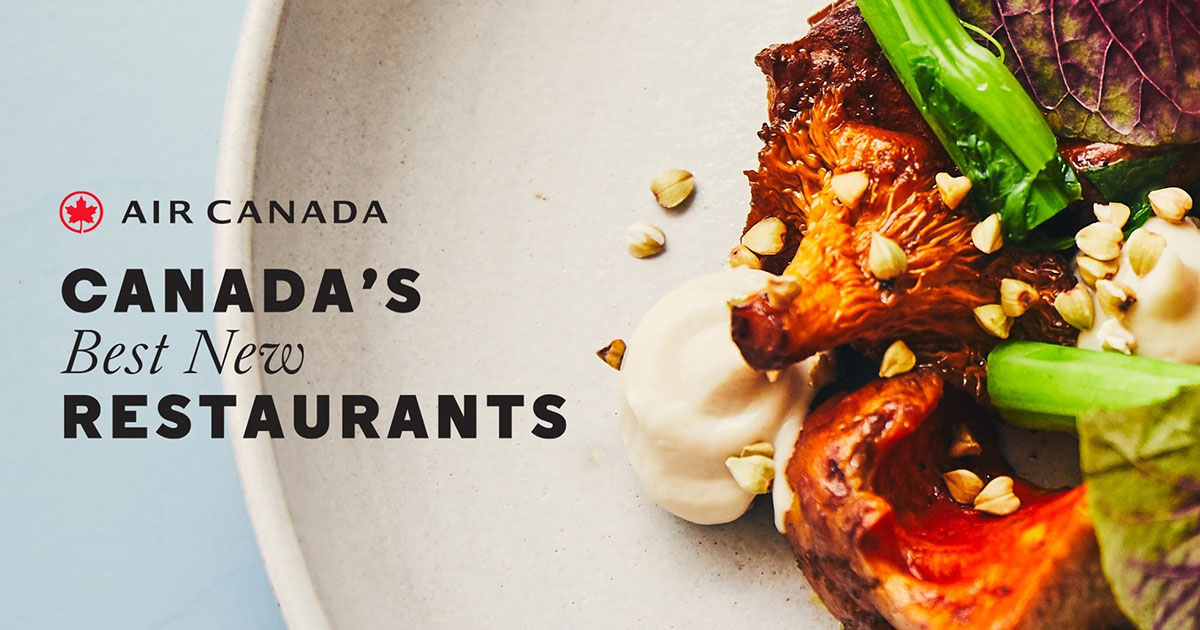 In August, after another year of challenges such as the pandemic and restaurant labour shortages, Air Canada is proud to announce the 30 finalists for the Canada's Best New Restaurants 2022 competition. For more than 20 years, Air Canada enRoute has celebrated the country's best emerging restaurants, chefs, teams and talent through this program, and this year the Top 10 are back! The long list is available here.
Canada's Best New Restaurants 2022 by Air Canada : A quest for culinary talents
This year marks the twenty-first year of the competition. It is the longest-running national search for culinary talent and the only Canada-wide restaurant ranking that uses a single anonymous food critic to taste the creations of these new establishments. On the recommendation of our national panel of food experts, Air Canada sent a staff member on a discreet month-long foodie marathon in search of the 30 most outstanding new restaurants in the country vying for a spot on the coveted final list.
The 2022 Canada's Best New Restaurants longlist spans 15 cities across eight provinces. From a four-seat Sichuan noodle counter at a Chinese grocery store in Montréal to a steakhouse reimagined in a panoramic lounge 40 floors above Calgary, this year's list features 30 restaurants in a range of formats, including a permanent pop-up, an art gallery-housed takeout spot, and pandemic-delayed visions that finally came to fruition.
"Air Canada applauds and congratulates the work of the chefs and restaurateurs who undertook the incredible journey of opening up a restaurant over the past year, which is already a feat during the best of times," says Andy Shibata, Vice President, Brand, Air Canada. "We are committed to sharing their stories and how they also successfully embraced new ways to explore cultural identity and made strides to advance sustainability and workplace equity."
The finalists for the Canada's Best New Restaurants 2022 by Air Canada are :
Bar Susu, Vancouver
Le Clan, Québec City (which we recently visited and which we will tell you about soon)
Delara, Vancouver
Drift, Halifax
Elephant, Vancouver
Fonda Balam, Toronto
Fox & Monocle, North Saanich
Fu's Repair Shop, Edmonton
Gia Vin & Grill, Montréal
Hayloft Steak + Fish, Edmonton
Hearts Tavern & Bar, Kimberley
J'ai Feng, Montréal
Jeju, Tofino
Major Tom, Calgary
Mastard, Montréal
Mimi Chinese, Toronto
Mokili, Montréal
Một Tô, Calgary
Namjim at Bannerman Brewing Co., St. John's
Nola, Winnipeg
Osteria Giulia, Toronto
Parcelles, Austin
Pei Pei Chei Ow
Edmonton; Perch, Ottawa
Pichai, Montréal
Pop Wine Bar, Saskatoon
Prime Seafood Palace, Toronto
Restaurant 20 Victoria, Toronto
Restaurant Alentours, Québec City
Roy's Korean Kitchen, Calgary
Canada's Best New Restaurants 2022 celebrates the most innovative restaurants that opened across the country between late spring 2021 and May 31, 2022 and offer outstanding experiences through quality food, service and culinary creativity.
Who will join the Battuto and Arvi?
The Top 10 will be announced at a gala event in Toronto on November 1, 2022. The winners will also be featured on the website and in the November issue of Air Canada enRoute magazine. Plus, check out the new book inspired by 21 years of success, Canada's Best New Cookbook, featuring the most memorable dishes Air Canada enRoute has unearthed in more than 20 years of scouring the country for exceptional meals.
The Canada's Best New Restaurants 2022 by Air Canada event would not be possible without the support of sponsors Diageo (Gold) and American Express (Silver).
Share the post "Canada's Best New Restaurants 2022 by Air Canada: Discover the finalists"