Nespresso World Explorations: The newest Lungo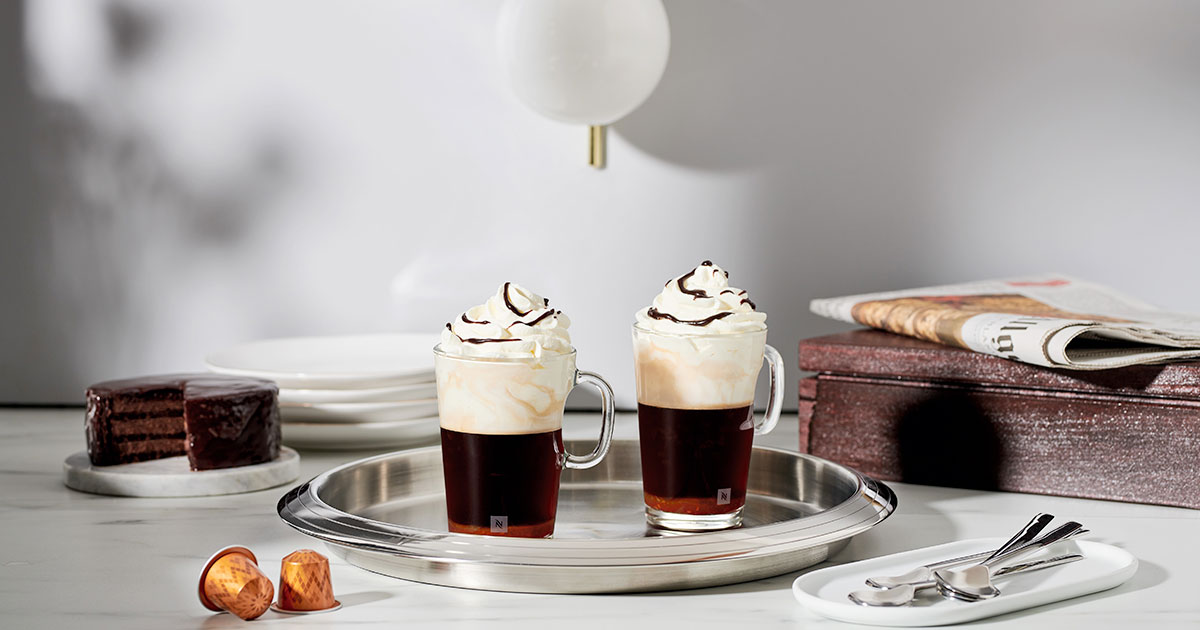 Although our discovery of the world does not live up to our expectations these days, the Nespresso World Explorations offers you a journey into the world of coffee. The latter builds on the popular Lungo collection which features several distinct cafes inspired by the cities of Tokyo, Cape Town, Stockholm and Vienna, with the addition of two new cafes inspired by Shanghai and Buenos Aires.
New names and two new Lungo
Inviting consumers on a journey that will enhance their tastes and enrich their coffee knowledge, the World Explorations range features the intense CapeTown Envivo Lungo and Stockholm Fortissio Lungo, as well as the more balanced Vienna Linizio Lungo and Tokyo Vivalto Lungo. Don't worry explorers,  two new mild cups, Shanghai Lungo and Buenos Aires Lungo, inspired by the flavour profiles typical of these Asian and South American cities make are now offered to you.
Celebrating traditional coffee moments from all over the world, such as the Viennese coffee house culture, where coffee becomes part of a special trip and is enjoyed idly from morning 'til night, or Argentina's Merienda coffee break, observed late in the afternoon alongside sweet and savoury snacks, Nespresso World Explorations captures the sensations, tastes and aromas of some of the world's most admired cities on the planet. If you want to know more about discovering coffees and how to taste them, read our interview with Julien Carbone, coffee ambassador at Nespresso Canada.
World Explorations Shanghai Lungo
You are certainly familiar with the modern coffee scene in China, Nespresso's World Exploration Shanghai Lungo coffee takes inspiration from emerging Asian coffee culture with a distinctive light roast blend that combines Kenyan, Chinese and Indonesian Arabicas. . The berry notes and fine acidity of this coffee are best appreciated in the lungo format, where the large cup allows you to experience it like a true Chinese.
World Explorations Buenos Aires Lungo
here, it is a tribute to the Argentinian fine dining, where the sweetness of flavors prevails, the Nespresso's World Explorations Buenos Aires Lungo coffee combines a slowly roasted Colombian Arabica with Ugandan Robusta, to offer distinct notes of cereals and sweet popcorn. The city's love for long, sweet-flavored lattes was highlighted. Serve this Lungo with a generous drop of milk and sugar.
World Explorations Cape Town Envivo Lungo
Reflecting South Africa's preference for Asian coffees, which have shaped local tastes over time, Nespresso's World Explorations Cape Town Envivo Lungo coffee combines Indian Arabica beans and Robusta to deliver an intense and full-bodied Lungo, with a punchy and bitter note and a woody aroma. Reveal the creamy roasted notes of the coffee by adding just a little milk to enjoy it like a local.
World Explorations Tokyo Vivalto Lungo
The Japanese appreciate a richer coffee with balanced and elegant aromas, surely in reference to tea. The aromas found in an Explorations of the Nespresso's World Explorations Tokyo Vivalto Lungo highlight these preferences with refined Ethiopian and Mexican Arabicas that give you a complex, floral coffee with a hint of acidity. To enjoy this coffee as if you were in Japan, all you need to do is extract a long cup of black coffee and take the time to savor its aromas. Simplicity as they say.
World Explorations Stockholm Fortissio Lungo
Transporting consumers to a peaceful ride through Stockholm (with the Velosophy x Nespresso bike?), Nespresso's World Explorations Stockholm Fortissio Lungo coffee rethinks the aromatic profile of a Swedish coffee by combining the taste of Monsooned Malabar with Colombian Arabica for an intense and sweet cup with a touch of bitterness. To enjoy this cup like a real Swede, this tasty coffee can be shared with friends or family over a delicious plate of cinnamon buns.
World Explorations Vienne Linizio Lungo
Let's move to Vienna's coffeehouse tradition, Nespresso World Explorations Vienna Linizio Lungo coffee from Nespresso pays tribute to the sweetness of Viennese coffee and its many recipes. It combines Brazilian and Colombian Arabicas sweet grains, which are lightly roasted by the experts, to enhance the malty and aromatic notes present in the cup. For an authentic Austrian coffee experience, it is suggested to top this lungo with hot water for an even longer cup and serve it with a slice of cake. Perfect to feel like a Gentleman walking on the edge of the Danube while listening to Mozart.
Availibility
The Nespresso World Explorations range of coffees has been available online and in Nespresso boutiques since January 25, 2021.