Panettone French toast with apple brandy
17:24
updated on Jan Mon 2023 13:08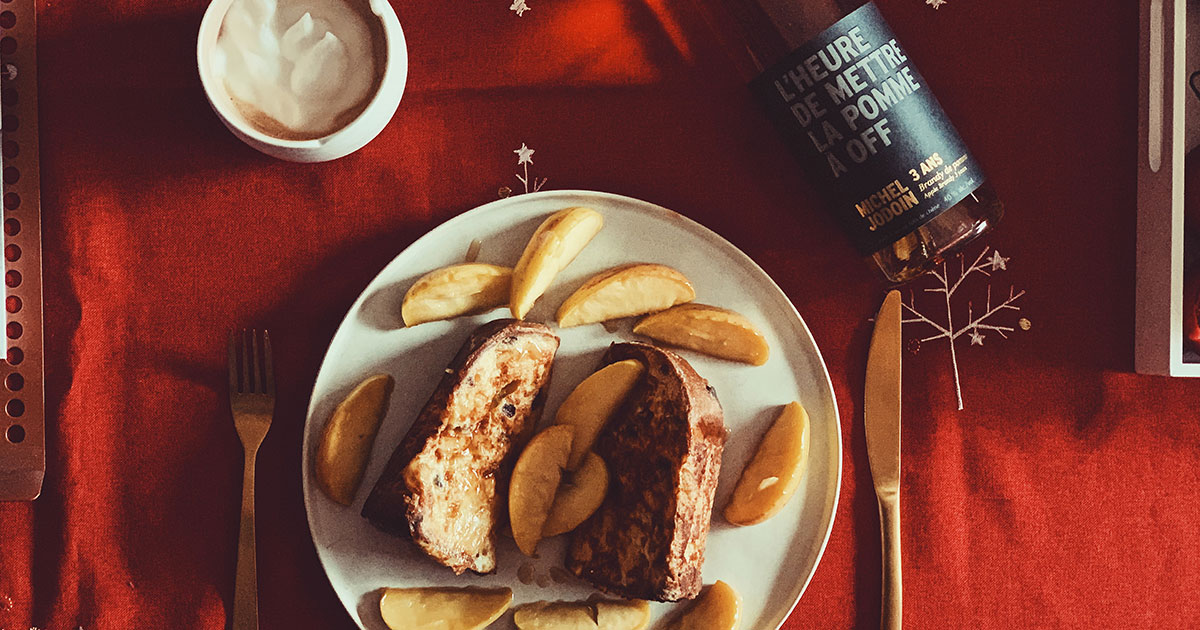 While the holidays are coming to an end, what could be better than making a little sweeter breakfasts. Having recently received from Michel Jodoin, the 3-year-old apple brandy, named "L'Heure de mettre la pomme à off" and offered at the cider house the and at the SAQ, I decided to make a Panettone French toast with Apple brandy with Stefano Faita's Classic Panettone, made in Varese in Italy, that I bought at my IGA, but it is also available at several retailers including Hudson's Bay and Quincaillerie Dante for example where you can order it online.
Panettone French toast with apple brandyrecipe for two
For French toast (for 2 people)
4 slices of Stefano Classic Panettone, about 1 inch thick (remove the different sheets of paper)
4 eggs
1 oz. of Michel Jodoin apple brandy
2 oz. of Natrel lactose-free milk (if you like it more fat you can make half and half with 35% cooking cream). I use Natrel lactose free for the one and only reason that it has a longer duration
Gingerbread spices of La Pincée to your taste
½ oz. of vanilla
½ oz. of Maple syrup
Pinch of salt
Natrel salted butter
For apples
2 Quebec Golden apples cut into 12 wedges (at the last minute to avoid browning)
Natrel salted butter
2 oz. maple syrup

Procedures
Preheat the oven to 200 F
Heat a non-stick skillet to medium high
When the pan is hot, Place a square of butter
When the butter is foaming, quickly dip the panettone in the mixture (2-3 seconds on each side) and place it in your pan.
After 2-3 minutes, lift your panettone and check that the first side is golden brown, if it is, turn it and do the same operation for all sides, otherwise, wait in waves of 15-30 seconds to the perfect coloring.
When all sides are done, put your pan in the oven.
Apples in maple syrup and apple brandy
Heat a stainless steel pan, personally I use this All Clad, on your hot round
Add 3 ounces of maple syrup and a good square of butter and wait until it becomes foaming
Place your apples in the mixture
Cook for about 5 minutes on each side
Place ¾ oz. of apple brandy in the pan and flambé!
Wait 30 seconds and remove the pan from the heat and let stand for 2 minutes.
Serving the Panettone French toast with apple brandy
Take your slices out of the oven and close it
Place your slices on the plate
Place apples around
Pour the remaining butter-maple syrup-brandy mixture over your apples and panettones (you can add more syrup if you have a sweet tooth)
Treat yourself
Optional:
Serve with a Nespresso Corto coffee cappuccino in which you have previously added a little (or a lot) of apple brandy to the bottom of your cup.
Discover our French toast recipe for Christmas morning if you don't have a Panettone or Apple Brandy