Seedlip: The New Way to Drink
14:18
updated on Jan Thu 2023 09:58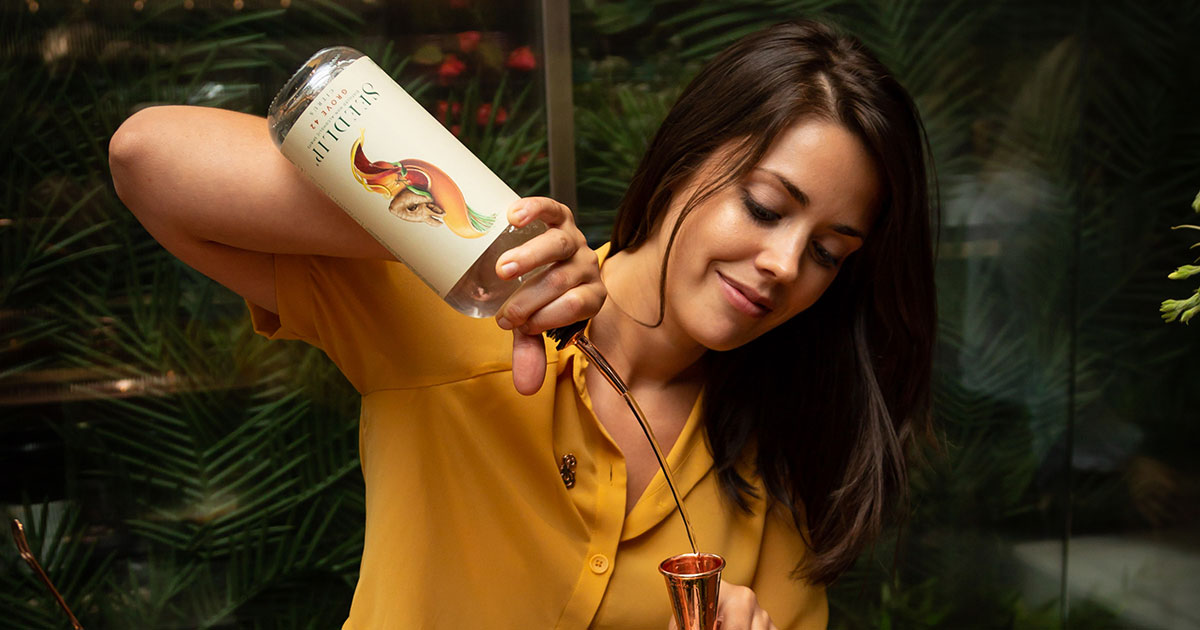 As the 28 Days Sober Challenge is halfway and Dry January just finished a few weeks ago, I met Sarah Parniak, the Canadian market manager of Seedlip (Now Diageo's Senior Manager of the Non-Alcoholic division), the world's first distilled non-alcoholic spirit, to learn more about the brand and its story.
Sitting at the Crew Café, I entered in the heart of the subject by asking Ms. Parniak what's the origin of the brand. "Ben Branson, the Seedlip founder, is a non-drinker himself, and was working at his own design firm in London, and obviously there was a lot of clients' dinners, and he was disappointed with the lack of options for him. Mainly it was sugary-sweet mocktails, pink, that didn't pair with the food, the moment, didn't match the mood at all." She also explains to me that he has a hyper curious mind. Growing up, he was always at his mother's side of the family farm. There Ben learns about different vegetables such as sweet peas and many more. "What becomes a larger movement really started as a personal story" added Ms. Parniak
Seedlip Early Days
If we look at the aesthetic of the bottle, it is very appealing, it came from Mr. Branson, no link to Sir Richard Branson, design background. The inspiration came from his love of nature, he's constantly inspired by the natural world. I learn that he taught himself taxidermy and is a hobby gardener, so he grows many herbs and vegetables in his backyard. So you maybe can see the picture already there
This curious man was doing a research as what he can do with all those herbs and vegetables and he found an old text online called The Art of Distillation by John French in 1651. Ms. Parniak says to me, "he was flipping through the book and at the end, there's this recipe for non-alcoholic herbal distillates and herbal remedy and he says it's interesting, I didn't know that… And that combines with his experience as being disappointed as a non-drinker leads him to experiment. He bought small pots and start recipes with herbs from his garden. He was excited enough by these results to decide if he can do something larger."
A note on the mocktail name.
As we were going into the discussion, we were talking as the word mocktail.
And as the word mock, it says it's an imitation of the real thing, a fake, mimic, not as good. 
Well, the Seedlip cocktails are not made to be an imitation of a cocktail, it's a true cocktail,
not a bad option, it's something you can choose over an alcoholic cocktail.
The complexity, the aromas, the Non-Alcoholic spirit.
So I advise you: please called them Non-Alcoholic cocktails from now on.
The process to create Seedlip
The process that Seedlip uses alcohol in the beginning part of the maceration process that they distill, and the rest is history. They use alcohol for reason of stability. They don't use that much of alcohol, around 2 or 3%, and it's an NGS (Neutral Grain Spirit). Beside use the alcohol as a preservation, they also use it as a solvent to removes all the oils, and flavours and aromas of the herbs and plants they are working with to distill them.
The first step is to remove the alcohol and the second step is to concentrate the aromas and flavours. It's a process that takes about 6 weeks for one batch of Seedlip. Also, note that they don't use oils, infusion, it's all in the process of distillation and maceration. "The Seedlip mission is really Ben's mission," add Ms. Parniak. "It's really to change the way the world drinks by offering a better non-alcoholic option."
Ms. Parniak explains to me they want to provide an alternative to those that aren't drinking for whatever reason, and they don't want to cut any corners to do that. They want to show people, all kinds of drinkers, that you can put the same amount of care and attention and craft into a non-alcoholic spirit that you will put in any traditional spirit.
Now in the Diageo family
Seedlip is not a small company anymore, Diageo bought a majority stake in the company in August 2019. But the history is fascinating, because Diageo bought 20% of the company in 2016 through its Distill Ventures division. You might ask why? Well, Seedlip's aromatic Spice 94 debuted in Selfridges in London in late 2015, the very first batch of 1000 bottles sold out in just three weeks, the next in three days, and the third 1000 in less than half an hour. Iconic bars, hotels & restaurants like The Fat Duck, The Clove Club, Dandelyan, The Savoy, The Ritz & The Hand & Flowers, even Buckingham Palace was soon in touch.
The demand was clear. And this just exploded. "That says a lot about the fact that non-alcoholic beverages are more than a trend, it's a movement, it's evolution in a way that we drink, and it's exciting," says Ms. Parniak. 
As it is a non-alcoholic drink, the distribution channels are different. The product is not available yet through the SAQ or LCBO. It is distributed by our friends at Favuzzi, it's actually where I met Ms. Parniak for the first time. You can find it in independent shops such as Marché Artisans at Fairmont The Queen Elizabeth in Montréal, Alambika, Indigo, Pusateri's, and on the Seedlip website.
As for the future of Seedlip, what is it? "Well, Seedlip is about this evolution. We were the first distilled non-alcoholic spirit, we really are eager to continue to increase space for the category. We want to be more widely accessible, more dynamic, more exciting. We've already released a sister brand called Æcorn Drinks, only available in the UK for now, which as the name says, is a range of non-alcoholic aperitifs. So Seedlip is not designed to mimic the traditional spirits, they're not non-alcohol gin, they're their own thing, there is no juniper in our products. 
But with Æcorn, it's more like dry vermouth, aromatic vermouth and a bitter aperitivo. It's based on English grown verjus from champagne grapes and they all contain acorns, which is the British oak tree which is a symbol, and is a bittering agent. Some of the bitterness is coming from the acorn, and they are amazing."
There is also The Harvest 36, which was made in a very limited quantities for the World's 50 Best Restaurant Awards in 2018, it's the World's First Dark Distilled Non-Alcoholic Spirit. It's made with a smoky rich blend of malted barley, vanilla, coffee, oak, smoked Manuka wood and spent in cognac casks. But, as Ms. Parniak told me, Seedlip will likely release other products before this one hits the shelves, sadly. 
Also Seedlip is a partner with the Mercedes-AMG Formula One team since last year, which is great to providing better options for designated drivers
And a final word from Ms. Parniak: "There's a Seedlip for every mood and there's a Seedlip for every drinker." 
Find more Non-Alcoholic Spirits in our dedicated section.