The 50 years of Caesar: Interview with Augustin Risk and a book
14:25
updated on Dec Wed 2020 23:33
While the famous Caesar cocktail celebrates its fiftieth anniversary on May 16 in Montreal, it's all taking place at the Bar Pamplemousse . So to celebrate the 50 years of the Caesar, this famous Canadian cocktail party, we met Augustin "Tino" Risk, cocktail expert, Ceasar lover and co-owner of Bar Pamplemousse to learn more about his passion for this cocktail and on the evening which will take place in his bar from 5 to 7pm for the afterhours and will continue the whole evening with among others Crystal Head vodka.
Interview with Augustin Risk on the 50 years of the Caesar
So how did it come to Caesar's passion for you?
I always wanted to be a bartender, even when I was young, and at family events, it was me who had the role bartender while I was about 14-15 years old. And my family drank Caesar and that's how that passion was born. And I was really happy to do it.
So you've been enjoying this cocktail for a few years?
Yes, still!
And what's your passion about this cocktail?
It's an easy-to-drink cocktail that's actually transformable. here with grapefruit, we have a version with what we use in the food of the restaurant. We use what is in our Pikliz, a Haitian cabbage salad. When you make the salad, it remains a marinade with the spices jerk, and it is mixed with Mott's Clamato and that's how we do our Caesar.
I know that the little brother of Bar Pamplemousse, Le Mal Nécessaire, has a deep-rooted vision of what is sustainable and all in order to have the least possible losses. How do you see the future here with products like Mott's Clamato, do you ever think about doing it?
For now, we like the way things are done, but that's the way it works. is a possibility that in the future we explore this option. We are going to celebrate our 1st birthday in June while Le Mal Necessaire is now 5 years old. Harnessing a bar in a sustainable way is a long process to put in place. But we are looking at it in the medium term. For example, The Necessary Evil give us their products so that we work our cocktails, but it must be said that here is really the beer our specialty.
How did you become an expert in Caesar, I imagine that in the course of the experiments you certainly developed some knowledge?
I will not lie to you, our Caesar here, it is our chief who did it . He had the idea to mix flavors and that's it
And your Caesar how do you like it?
I love it really spicy! And also with a lot of garnish!
So, there is an event on May 16 for the 50th anniversary, how are you going to go?
Yes, we'll do some Mott's Caesar classic all day and then I advise people to try them with the cod fritters that are served with Pikliz precisely.
So are you open now for lunch at the Bar Pamplemousse?
Yes, since May 7, from Tuesday to Friday. We have a market cuisine with Caribbean accents.
We'll see you very soon and thank you Augustin and see you at the celebration of 50 years of Caesar on May 16.
A book for the 50 years of the Caesar
To celebrate this anniversary, Canadians from all provinces and territories tell their story of Caesar, illustrating their personal connection to this iconic cocktail in a unique commemorative book, Caesar. 50 years. 50 stories. THE NATIONAL COCKTAIL OF CANADA: A HALF-CENTURY CELEBRATING
"What other cocktail Caesar can claim to have conquered the hearts of Canadians in the Caesar way:" I came, I saw, I conquered "?, asks Simon Hancock, faithful Caesar lover and editor of this book. Caesar is more than a cocktail, it's a cultural icon. Over the past 50 years, he has become more integrated than any other with the social customs, pride and traditions of Canadians.
Simon Hancock has selected 50 stories from more than 2,500 stories of Canadian men and women online and on Mott's Clamato's social media pages. These touching, sometimes funny, and always authentic stories are as diverse as their authors. Even famous Canadian Caesar fans participated, including Dan Aykroyd, Doug Gilmour, Bob Le Chef, Jason Priestley and cartoonist Lynn Johnston, author of the comic "For the best and for the worst," who chose to tell its history using an original drawing.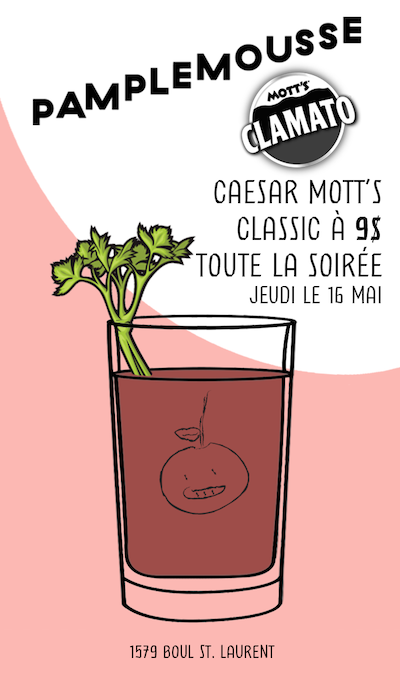 Bar Pamplemousse
1579, Boulevard Saint-Laurent
Montréal, QC
H2X 2S9