Mysa Smart Thermostat: For Intelligent Temperature Control
15:45
updated on Jan Mon 2023 19:50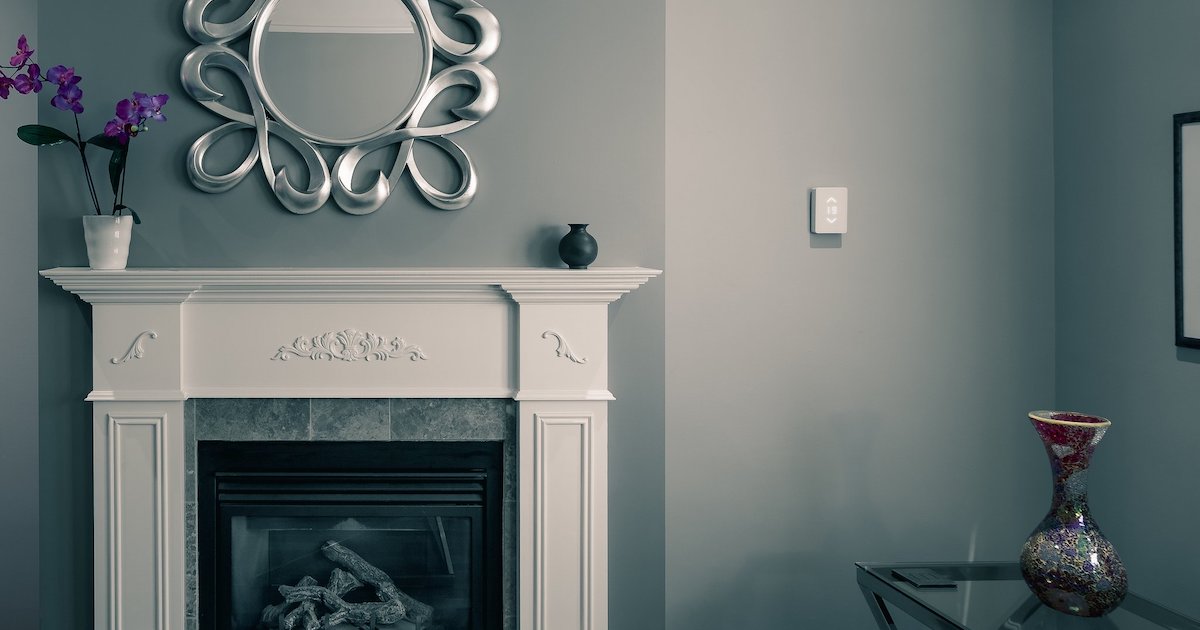 While several systems such as Nest, Ecobee or Honeywell are the envy of many, the majority of Canadian homes cannot benefit because their heating systems (the famous electric baseboards) operate on a high voltage system and the latter operate on a low voltage system. But do not worry, the Mysa Smart Thermostat is to the rescue of service customers like Hydro-Québec and others.
What is Mysa Smart Thermostat?
So I bought Mysa on their website in November during Black Friday/Cyber ​​Monday, but I should have bought two. Still, I can now control the temperature with my iPhone and the home application on the Mac or Apple TV with Siri and wherever I am. It also works with Apple HomeKit, Amazon Alexa, Google Assistant and IFTTT and that's really nice. By the way, Nest, which belongs to Google, is not compatible with the Apple HomeKit, I see it with my Nest smoke detector, the next will be from a different company.
Mysa Smart Thermostats: a Canadian company.
Headquartered in St. John's, Mysa was founded by Joshua Green, a young Dalhousie University student who wanted two things: helping people save electricity. It seems that Newfoundland is one of the provinces with the highest electricity bills and it is about to double ironically because of the province of Quebec, and second, he wants to return home to Newfoundland where 50% of people use electric baseboards as I told you above and therefore could not use the smart thermostats on the market.
We'll tell you, it's beautiful programmable thermostats that sell for $20 at your favorite hardware store, but it is far from the smart thermostat that communicates with your home. So, in addition to not being American, Mysa company thinks about the problems of Canadians. And the application and the site are in French and English.
The Discovery of the Mysa Smart Thermostat
I discovered Mysa Smart Thermostats by chance, by an ad on Instagram during their presale. I have to be honest and tell you that I did not buy it right away (even though last winter's heating saving and the acquisition cost at that time had been a lot more interesting) and I waited. It is by taking a look at my schedule of guys always left a little party and regularly forgetting his heating that I bought a thermostat Mysa, I would have taken a second for my room, but hey, I did not think about it instantly (my other thermostats are on wheels directly on the electric baseboard, so they are incompatible with Mysa).
So I ordered everything and less than a week later, I received it. I had a bit of difficulty with the installation, because the previous thermostat was a little old and I did not want to break anything in order to restore everything as originally when I leave my apartment. Be careful, and if you hesitate, do business with a professional.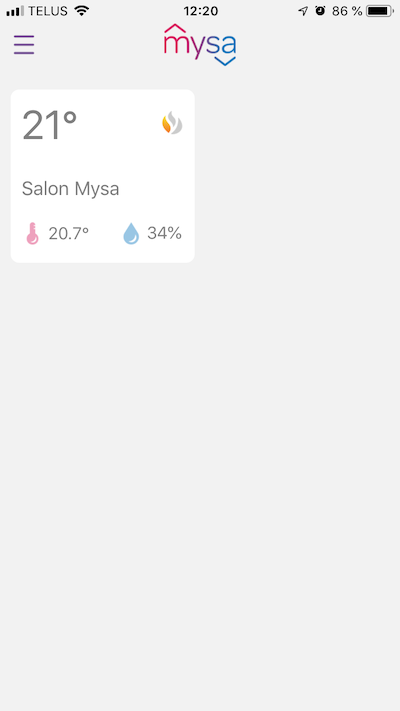 Getting started is really easy, everything connects very well with a code and everything. It's really easy, at least for iOS, I do not know with other operating systems. With the Home Application, I was able to add my mother who was on vacation at home so that she too could increase the heating if I left home. Yes, because I put an automation so that the temperature drops when I leave the house, it's really convenient seriously.
Better Management of Temperature ranges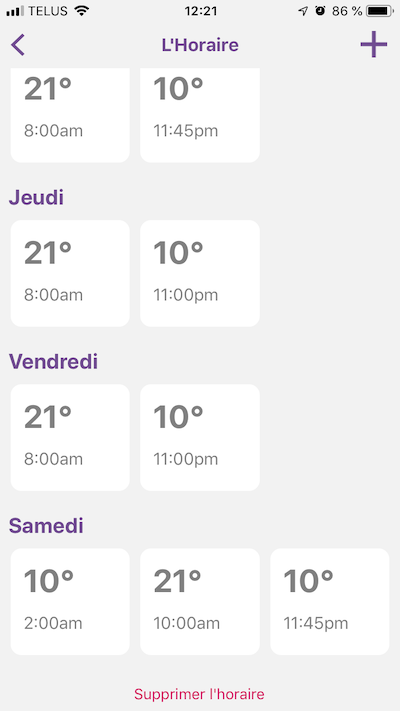 With Mysa, you can adjust different times ranges with different temperatures. It's really easy, it's handled in a really simple way. You can even do it remotely, when you disembark from the plane after 2 weeks of vacation or if you leave and you forgot, you can do anything from a distance. Or even aboard the train when you arrive in town. In short, your home will be warm when you arrive home. What to ask for better? Oh yes, you can, of course, turn off the light when you go to sleep. Also, there's a vacation mode that I didn't test yet. 
The Mysa is for sale on their site or via Amazon. For those who enjoy the Prime service, you may save a few dollars on delivery.
Do you have questions about the Mysa Smart Thermostat? Do not be shy!
Share the post "Mysa Smart Thermostat: For Intelligent Temperature Control"