Montréal en Lumière 2019 Edition: 20 years of gastronomy
12:46
updated on Jan Tue 2023 10:46
It has been 20 years since Montréal en Lumière was part of Montreal's landscape. For this edition, gastronomy takes over with a little less room for music. It is from February 21 to March 3 that Montréal en Lumière 2019 Edition, this essential gastronomy will resume its place in the Quebec metropolis.
Montréal en Lumière 2019 Edition : Discovering the World
It's in partnership with 45 participating Air France Finest Tables that Montréal en Lumière, presented in collaboration with Bell, offers a multitude of gourmet activities centered around a particularly rich theme: a journey around the world… And to the heart of our world!
For its 20th edition, not only will the world's gastronomic experts meet in Montreal, but local producers and artisans will also be honored. And since 20 years is a perfect opportunity to celebrate, a host of novelties await festival goers who will feast on a deliciously eclectic gastronomic program, in addition to being able to attend three electrifying concerts.
New countries coming to Montréal en Lumière 2019 Edition!
It's more than 40 of the most creative and innovative chefs in the world will join their Quebecer equivalents behind the stove to create extraordinary meals that will delight the taste buds of festival goers. Some attendees will be able to undertake a rich culinary journey and learn about the traditional and modern flavors of more than 15 different countries, including three countries represented at the festival for the first time: Iceland, Panama and Israel.
Winegrowers, distillers, microbreweries and wine agencies will work together with great chefs to create evenings that will be discussed for a long time. Interesting fact: the chefs themselves chose with whom they were going to be paired. The goal is to maintain human and creative ties with foreign chefs on the long-term … and to create even more magical experiences for you, food lovers.
Some of the Chefs!
Focus on local business
It was also essential for the festival to offer a spotlight for local producers as part of its 20th anniversary; gastronomic pairings will also be carried out with well-known companies, such as maison Cassis Monna & Filles, Gaspor Farms, Fromagerie de l'Isle, and many more. It will be a perfect opportunity to (re)discover their remarkable products. Moreover, renowned Portuguese chef Helena Loureiro is back for the 20th edition of the Montréal en Lumière festival. A great traveler and lover of Quebec, Helena has decided to venture on the St. Lawrence River to discover four islands and their gourmet specialties that she will be presenting at her restaurant Portus 360 on February 25 and 26.
Moreover, focusing on unique encounters between public figures and exquisite menus, several special guests will participate in some of our Air France Finest Tables; Bïa — who will be hosted by Helena restaurant — as well as Ariane Moffatt and Gregory Charles (Casino de Montréal's Le Montréal restaurant) are among them.
A ton of new activities for 2019
In order to renew itself, Montréal en Lumière has announced several new features, starting with Le Quartier Gourmand, host of all surprises. The latter, located at the Maison du Festival, will be the capital of local and international gastronomy. You will find two floors where the pleasures of the table will be declined in several conferences, tastings, gourmet offers, talks and captivating workshops. In addition, a bar will be there to refresh you and offer you a personalized offer of cocktails and other drinks.
Here is a promising taste of the many events that will take place there.
Conferences:
Social gastronomy in Quebec from the heart to the table presented by the SAQ
Discussion around this theme with several guests, including Jean-François Archambault from La Tablée des Chefs and John Winter Russell from Candide
Thursday, February 21, Salle Gourmande
The grilled critic presented by the SAQ
A look into the life of a professional food critic with Jean-Philippe Tastet
Thursday, February 28, The Astral
Instagram and gastronomy: For the better and for the worse presented by the SAQ
Instagram conversation between tastet.ca editor, Élise Tastet, Antonin Mousseau-Rivard and international chef Camille Becerra
Monday, February 25, The Blumenthal
Various conferences on Côte-Nord products
The latter is the featured region of Montreal in Light for a second consecutive year.
Several dates.
Activities And Demonstrations
Interview with Josée Di Stasio led by Jean-Philippe Tastet
The Famous TV hostess presents her new book, À la soupe, in an original way
Saturday, February 23, Salle Gourmande
The latte art presented by Touché
Demonstration of latte art by experts and curators of Café Touché and Maxime Richard of Café Pista
Saturday February 23rd and Sunday February 24th, Salle Gourmande
Culinary experts tours
Discover three circuits where experts from the world of wine, cocktails and beer will share their knowledge and share their passion will be presented: the circuit of sommeliers, the circuit of mixologists and the circuit of microbreweries.
The sommelier tour
Visits of the following restaurants and boutiques with Natalie Richard: Vinum Design, Henri Brasserie Française, Labo culinaire Foodlab and Taverne F with Natalie Richard
Tuesday, February 26
The microbrewery tour
Visits of the following microbreweries with Bianca Thériault: Cheval Blanc, L'amère à boire, Saint-Bock and Saint-Houblon with Bianca Thériault
Friday, February 22
The mixologist Tour
Visits of the following establishments with Natalie Richard: Hôtel Monville, Club Pelicano, Le Mal nécessaire and Le Lab with Natalie Richard
Wednesday, February 27
Montreal en Lumière 2019 Edition  Nuit Blanche
The Nuit Blanche is back more beautiful this year with several activities once again, including the Mondial des Cidres SAQ,
The Nuit Gourmande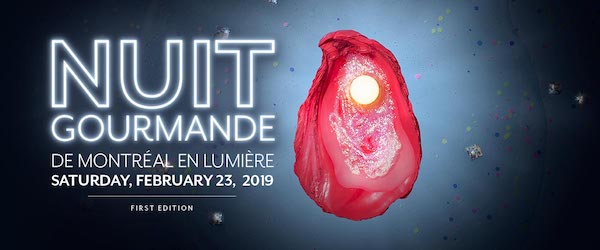 In the night of February 23, experience the very first Nuit Gourmande in Montréal. This event wants to introduce people to the culinary riches of the city with the help of local shop-owners, in a festive atmosphere accessible to all!
Activities have been specially organized for the occasion throughout locations where taste buds are stimulated: restaurants, grocery stores, cafés, bars, bakeries, specialty boutiques… Wander around the four zones of participating establishments, following your instincts in order for this gourmet stroll to be unforgettable!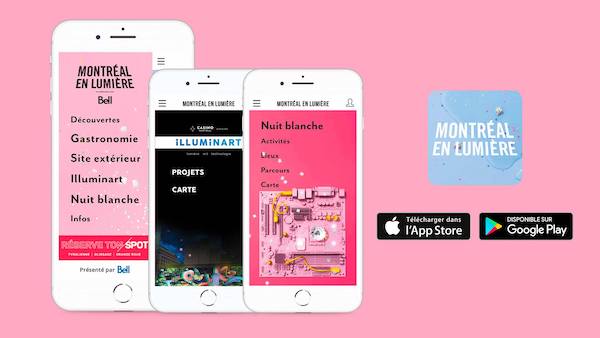 Montreal en Lumière 2019 Edition
From February 21 to March 3, 2019
Visit the website now! or download the mobile app, the hub to learn all about the different activities.