Fairmont Royal York : A Grand Transformation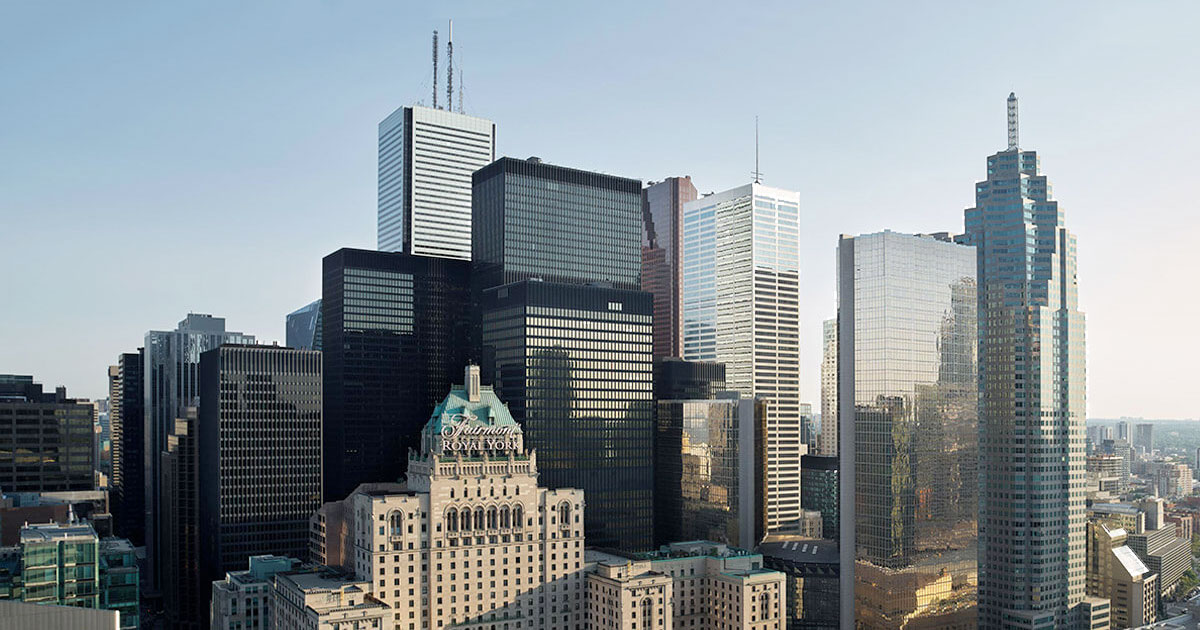 In 2019, the Fairmont Royal York celebrated its 90th anniversary, marking a new chapter in hotels and Canadian hospitality history. Since 1929, the latter has welcomed millions of travellers worldwide, lit up the big screen as Toronto's most filmed location, and hosted the city's most unforgettable moments. Now, this world-renowned hotel will mark the next chapter in its history with a majestic transformation, respecting the icon's timeless grandeur while elevating it into a new era of luxury.
Lobby & Arrival Experience
The concept of the lobby and the arrival experience is inspired by a journey from Toronto's past through its present. The design embraces and preserves the grand character and heritage of the building, while creating a contemporary and modern escape that feels timeless. Since the hotel is connected to the Toronto railway and Union Station, the elements of material, form and detail are inspired by the aesthetics of train cars and railroads. Rockwell Group has created what will be a real "living room" for the city, with a larger and more generous reception area lined with marble staircases and a sweeping ramp that guides guests to check in stations, inspired by train ticketing counters.
The Fairmont Gold level
The Fairmont Royal York new Fairmont Gold offering is inspired by the famous history of its luxurious accommodations and the personalized high-end services sought by today's elite travelers. Curated by Champalimaud, a leading global tastemaker in hospitality interiors, the redefined Fairmont Gold sums up the timelessness of the building and evokes the energy of the city.
The offering includes more spacious and elegantly appointed suites, as well as a spectacular new Fairmont Gold Residents Lounge, located on the 18th floor, providing privacy and relaxation to distinguished guests in the epitome of penthouse surroundings. With services led by internationally recognized and highly trained concierge experts—members of "Les Clefs d'Or" society—the new Fairmont Gold is upscale living at its finest.
The Legacy Suites, the ultimate experience at the Fairmont Royal York
The crowning moment in its grand transformation will be the unveiling of two new Legacy Suites. Incorporating downtown Toronto's cosmopolitan grandeur with sophisticated, residential-style living, the hotel transforms its two most notable signature suites into the city's defining luxury experience. Capturing the charm of the metropolitan lifestyle with an added allure of personalized service, the suites are designed for illustrious travelers looking for the ultimate in indulgent hotel accommodation. These definitive spaces will welcome discerning guests to the future of residential-style urban retreats.
Three unique culinary experiences
 by the Fairmont Royal York
At the heart of the hotel's metamorphosis will be an exhilarating culinary experience, as the Fairmont Royal York prepares to launch four new signatures dining concepts. Renowned Fairmont Executive Chef JW Foster is redefining the cuisine of this iconic hotel. Chef JW brings to the hotel the wealth of knowledge and expertise gained over 15 years as an experienced chef at Fairmont locations around the globe. He plans to honor the brand's commitment to sustainable food by implementing a new program that works closely with Ontario farmers to provide truly local ingredients in each new menu.
Just steps away from the grand lobby is the hotel's new signature dining venue, Reign. Home to a restaurant, a bar and a bakery, Reign offers three unique culinary experiences, combining everyday culinary techniques with classic culinary techniques and trends in modern cuisine.
"Fairmont Royal York has always been home to notable culinary and cocktail offerings throughout our long history. We are excited to introduce two new food & beverage venues which usher in a new era of dining at our hotel, while remaining true to our esteemed past," said Edwin Frizzell, Regional Vice President and General Manager, Fairmont Royal York. "REIGN pays tribute to our royal roots in its namesake and design, and is set to elevate our dining experience through a Canadian-inspired brasserie with a modern take on traditional French cuisine; Clockwork Champagne & Cocktails will be the heartbeat of our famed property with the lobby lounge introducing a new symbolic centerpiece unlike anything else in the city.
" "We are thrilled to bring our guests a fresh, truly Canadian farm-to-table dining experience with the help of our many producers. Local ingredients and sustainability is our main focus in furthering the hotel's promise to source locally and we couldn't do it without our farmers," said jW Foster, Executive Chef, Fairmont Royal York. "Serving everything from lobster and steak to Royal Sticky Toffee Pudding and Newfoundland cod, we've drawn inspiration from Canada's roots, coast to coast."
Clockwork: a new elegant lounge for champagne and cocktails
With its modern and intimate atmosphere, Clockwork Champagne & Cocktails is the city's next classic lounge for an elegant champagne and cocktail experience, featuring bubbles and a wide range of international wines, specially crafted cocktails and culinary delights.
Clockwork first greets guests with a statement timepiece in the transformed lobby—a specialty clock tower inspired by the hotel's anniversary. The new centerpiece was created by the same manufacturer as the hotel's iconic spiral staircase version of the clock initially installed in 2002 by US-based, Electric Time Company. The "90th Anniversary Clock" will stand as a testament to those who have worked vigorously in the past to welcome visitors and Torontonians alike to the celebrated hotel. The two-sided clock tower represents the timeless character of the hotel, one representing an amazing constellation clock and the other a classic motif inviting the next generation of customers to perpetuate the legacy of this synonymous phrase of ownership: "meet me at the clock."
At the helm of the new lobby lounge, the hotel called on the famous mixologist, Rus Yessenov, to oversee a new vision of cocktails and aperitifs. Responsible for creating a new menu of spirits and cocktails to reflect the character of the venue, Yessenov will use classic cocktail recipes and infuse them with modern flavors. With glittering charm and allure, space, the living room is a lively and metropolitan social scene.
"It is a privilege to craft the first-ever customized cocktail menu for such a notable Toronto hotel," said Rus Yessenov, Director of Mixology, Fairmont Royal York. "As each decade sees a new era of taste and flavor, it was no small task to infuse 90 years of industry trends and modern classics into a tailored story for the prestigious property. I am confident Toronto cocktail lovers will appreciate and enjoy our exclusive array of the world's finest champagne and cocktail creations."
Canadian roots, from coast to coast.
Inspired by an overall residential-style concept, the striking design elements include a custom wall painting depicting a traditional English garden landscape with a touch of classic painting style; a chimney inviting to rest; an intimate bar with a grand piano; and rich Canadian walnut incorporated throughout the space. A nod to a noble classical mansion, the REIGN also has a collection of works of art with authentic collectibles as well as two private dining rooms.
In addition to new dining experiences and the transformation of the lobby, the hotel will continue to delight guests and visitors at Piper's Pub, Benihana Japanese Steakhouse and Lounge, and Library Bar, which is home to Fairmont Royal York's acclaimed Afternoon Tea experience.
To learn more about the Fairmont Royal York transformation, please visit thefairmontroyalyork.com 
Want to see another hotel transformed, here is the Fairmont the Queen Elizabeth and its Suite 1742, known as the John & Yoko Suite
Article originally published in the Gentologie Magazine Issue 1