Paris by Grégory Faye: The Essentials
15:40
updated on Jan Mon 2023 12:01
Landing in Paris is coming home. Several of my colleagues, now friends, have their restaurants and I love to visit them. So I share with you some of my favorite addresses in the City of Lights.Here's Paris by Grégory Faye, my essentials.
Four Seasons Hôtel George V: L'Orangerie
The Four Season George V, it's the ultimate class. I have a particular fiber for this place, I worked there for 7 years, I saw the evolution of this palace there. Since I left, they have created 2 new restaurants; the George and the Orangerie.
The latter is led by a colleague with whom I started my career who takes care of it. He only makes vegetables and fish. He gave us a 12-course meal, it was exceptional. There is always something new and even at lunchtime it is attractive.
31, Avenue George V
Paris, France
75008
Hôtel Brach Paris
Le Brach is a magnificent view over Paris. It also is for this reason that it is the cover photo of the article. Here, we find ourselves in a former post office in the 16th arrondissement, all redone by the world-famous designer, Philippe Starck and open since the summer of 2018. Kristian Markovich, the assistant executive chef of the hotel makes an incredible cuisine. Here we find a marriage of different styles; Indian, Italian, brunches.
It is mainly a hotel with magnificent rooms like the one with a bath overlooking the Eiffel Tower. The decor is majestic, it is modern and classic at the same time.
1-7 rue Jean Richepin
Paris, France
75016
Brasserie Baroche: The Brasserie of Paris by Grégory Faye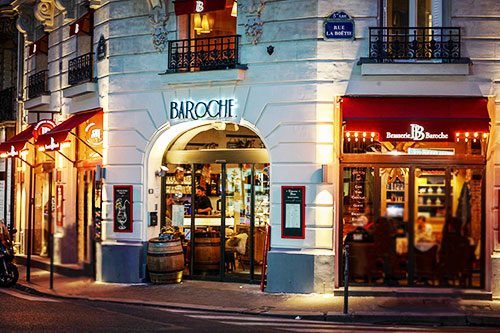 This is from my friend David Baroche. He is still one of the few to make a French brasserie with deli meats at the counter, he also makes pies from time to time.
It's a place where you get white wine when you get there, and it's really popular in the corner of the Champs-Élysées.
It's a beautiful space with simple, good cooking every day. Gourmet, no fuss.
He's a trained butcher, just like me.
101 Rue la Boétie
Paris, France
75008
Discover the Brasserie Baroche
The Royal Monceau
Here, we find a 5-star hotel that breaks the odds of luxury hotels. Chic, gourmet and trendy. A mix of contemporary design and Parisian chic. There is, among other things, an art gallery and a private cinema.
The restaurants are diverse. Chef Nobu Matsuhisa's Matsuhisa Paris is a must.
The sweet signature is signed by Pierre Hermé. The infinitely vanilla and infinitely coffee pies are among the best pies in the world that I have tasted.
You cannot miss it
37 avenue Hoche
Paris, France
75008
KL Pâtisserie Paris: The Pastry of Paris by Grégory Faye
A magnificent pastry shop by Kevin
Lacote in the tradition of palaces, there is, of course, a golden counter. He masters the Saint-Honoré to perfection, awesomely delicious.
I also tasted his kouign-amann, his Cara Damia pie, pistachio choux pastry. Everything is simple and neat.
The presentation, he treats it, it's simple, but everything is in the taste. It takes precedence over taste, flavors, finesse, acidity, sweetness, but not too much.
78, avenue de Villiers
Paris, France
75017
Le 24 Restaurant
By chef Erwan Merdrignac, he won the Prosper Montagné ("The Goncourt of the french cuisine") in 2006. He's an old friend who makes gourmet and refined cuisine.
Classic dishes seasoned with gariguette strawberries with pan-fried foie gras, everything is there, and very well executed. The juices and seasonings are perfect, the accompaniment is always at the top. There are only three of them in the kitchen and they do a great job.
With Hakim Seghaier as partner and director of the restaurant, they make a great team!
24 rue Jean Mermoz
Paris, France
75008
Yaya by Juan Arbelaez
One of Juan Arbelaez's eight restaurants, the Yaya restaurant, is his own way to revisit Greek food.
Seasonal products, dishes to share, all in a festive Greek atmosphere!
Here, we have fun, and the evening can easily degenerate, in a good sense of the term, of course.
A bit outside of Paris, but it's a must!
8 rue de l'Hippodrome
Saint-Ouen, France
93400
Cover Photo: Hotel Brach Paris by Alexander Volodin
The article "Paris by Grégory Faye: The essentials" was originally published in the Gentologie Magazine Issue 3