Brome Lake Ducks, at your table for the holidays!
22:25
updated on Jan Mon 2023 13:02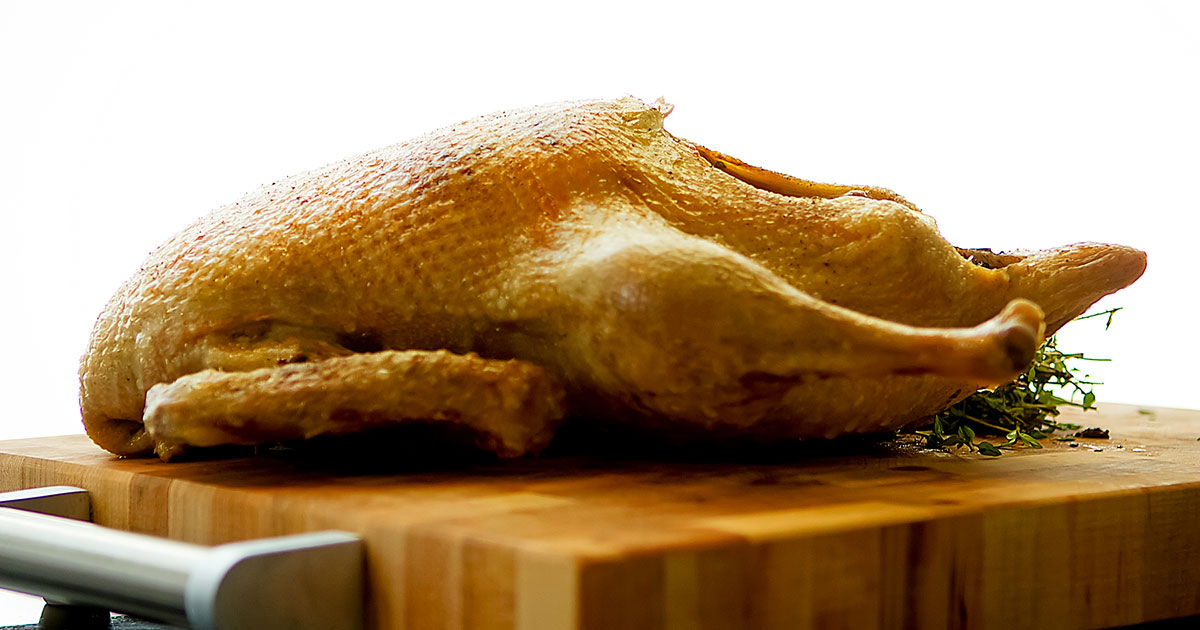 You know if you have been following us for a long time, you know that we love duck on Gentologie. Besides, last year chef Gregory Faye made a recipe with Rougié duck, mulard ducks. For these two recipes presented today, we are in a completely different variety of duck, the Beijing duck. For over a century, the Quebec company Brome Lake Ducks, located in Knowlton in the Eastern Townships, has offered high quality duck products. From the egg to the plate, all stages of production are controlled, respecting the birds and the environment. It offers more than 65 products on the market.
Brome Lake Ducks: Two chefs, two recipes
As the holidays are coming, Brome Lake Ducks presents two duck recipes created by two renowned Quebec culinary personalities, chef Helena Loureiro and consulting chef Philippe Mollé. Everyone has concocted a dish according to their origins, Portuguese for Helena and French for Philippe. As an accompaniment, two wines, a Portuguese and a French, were chosen to match well with the two dishes.
For this project, the chefs opted for a convivial dish to serve at the center of the table. Helena worked the whole duck in her own way, with a stuffing composed of figs dipped in port, bread crumbs and Portuguese sausages (chorizo). As for Philippe, he chose the boneless duck breast to cook a blanquette, an essential classic of French gastronomy and symbol of a long tradition. He created a delicious variant by replacing the veal with the duck.
Whole duck Helena-style, stuffing with Portuguese figs and sausages
Portions : 4 persons
Ingredients
1 whole duck from Brome Lake Ducks
1 kg (2.2 lb) baby potatoes or other
250 ml (1 cup) carrots
180 ml (3/4 cup) chestnuts (optional)
180 ml (3/4 cup) Brussels sprouts
250 ml (1 cup) chanterelles or other mushrooms to taste
Softened butter
1/4 cup (60 ml) semi-salted butter
2 cloves of chopped garlic
1/2 cup (125 ml) dry white wine
Stuffing
1/4 cup (60 ml) bread crumbs
15 ml (1 tbsp) 35% cream
1 1/4 cups (310 ml) sliced button mushrooms
3 chopped French shallots
1/2 cup (125 ml) chorizo, cut into pieces
15 ml (1 tbsp.) Port
45 ml (3 tbsp.) Dried figs macerated in port for 10 minutes
30 ml (2 tbsp.) Chopped parsley
Salt and pepper to taste
Preparation
Softened Butter
Remove the butter from the refrigerator half an hour before use. Once softened, put the butter in a bowl and work it vigorously with a spatula until the texture is as soft as that of an ointment.
Add garlic and white wine
Stuffing
Soak the bread crumbs in the cream
Peel the mushrooms and shallots
Add the mushrooms, shallots, chorizo, figs, parsley and the dry bread crumbs to the bowl of a blender, then season with salt and pepper. Blend until you get a stuffing
Whole duck (if frozen, thaw in the refrigerator for about 48 hours)
Preheat the oven to 190 ° C (375 ° F)
Stuff the duck cavity and tie well
Place the poultry in an ovenproof casserole dish and spread with the ointment butter
Bake for 2 hours and spread regularly with the butter mixture
The cooking time for whole duck is approximately 60 minutes per kg (30 minutes per pound) or until it reaches an internal temperature of 82 ° C (180 ° F). The internal temperature is taken at the joint of the thigh and the upper thigh.
Side vegetables
Clean the chanterelles
Cut the potatoes, carrots and Brussels sprouts to taste, then cook for 20 minutes in water
Fifteen minutes before the duck is finished cooking, sauté the chanterelles, chestnuts, Brussels sprouts, carrots and potatoes in butter separately
Service
Place on a large plate with all the vegetables around the duck and garnish with slices of clementines or grilled oranges. Cut and serve.
Wine pairing with the Brome Lake Ducks recipe from Helena Loureiro
For the Portuguese duck from chef Helena Loureiro, the 2015 Colossal Reserva red wine from Portuguese producer Casa Santos Lima was selected. Made from a blend of grape varieties – touriga nacional (30%), tinta roriz (30%), syrah (30%) and Alicante bouschet (10%) – this wine has an intense ruby color and releases rich fruit aromas. ripe reds and some floral notes. On the palate, it shows great complexity, with notes of plum and blackberry.
Blanquette of duck and vegetables by chef Philippe Mollé
Portions : 4 persons
Ingredients
2 duck breasts of Brome Lake Ducks
500 ml (2 cups) white wine
2 ½  cups (625 ml) chicken broth
16 small Cipollini onions
16 whole carrots or 16 carrot sticks
½  cup (125 ml) fine green beans
½  (227 g) mushroom wedge, quartered
2 egg yolks
½  cup (125 ml) cooking cream
2.5 ml (1/2 tsp) cornstarch
15 ml (1 tbsp.) Chopped fresh cilantro
Salt and pepper to taste
Preparation
Remove the skin from the duck breasts and cut each in half lengthwise, then into 8 cubes
In a casserole dish or Dutch oven, mix the white wine and the chicken broth, then add the duck pieces and cook for about 30 minutes, covered and over low heat; season to taste
Make sure with the tip of a knife that the pieces are cooked, drain well and set aside. Collect the cooking juice after filtering it
Cook the crunchy vegetables, onions, carrots and beans, separately in salted water and set aside
Place the mushrooms in the recovered cooking juice and cook for 2 minutes
In a bowl, beat the cream and the egg yolks and pour a little cooking juice to gently heat the mixture
Pour this mixture into the cooking juices while stirring; avoid boiling
Mix the cornstarch in 30 ml (2 tablespoons) of cold water and add to the cooking juices
Reheat the duck pieces and the vegetables and incorporate them into the casserole dish
At the very end, adjust the seasoning and add the chopped cilantro
Brome lake Duck Blanquette suggested serving
You can serve this plate with rice
Wine pairing with the Brome Lake Ducks recipe from Philippe Mollé
With Philippe Mollé's duck blanquette, a French white wine stood out: The 2017 Le Duché of Maison Moillard, a chardonnay from Burgundy. The estate, founded in 1850, produces wines of rare finesse and elegance, structured and powerful, produced with respect for Burgundian tradition. Under its light gold color, this white exudes fresh aromas of white flowers, lime and hazelnut, and reveals a nice acidity on the palate.
Learn more about Brome Lake Ducks
A brand new Brome Lake Ducks store and a duck interpretation center with an area of approximately 1,500 square feet were opened in Knowlton in the spring of 2019. You can find there the whole range of duck products, including several exclusive, as well as many gift ideas to offer as an original present or simply to have fun. A must to visit, especially as the holidays approach!