Hidden Bench Estate Winery – Visit of the Niagara Wineries
13:43
updated on Jun Thu 2020 17:44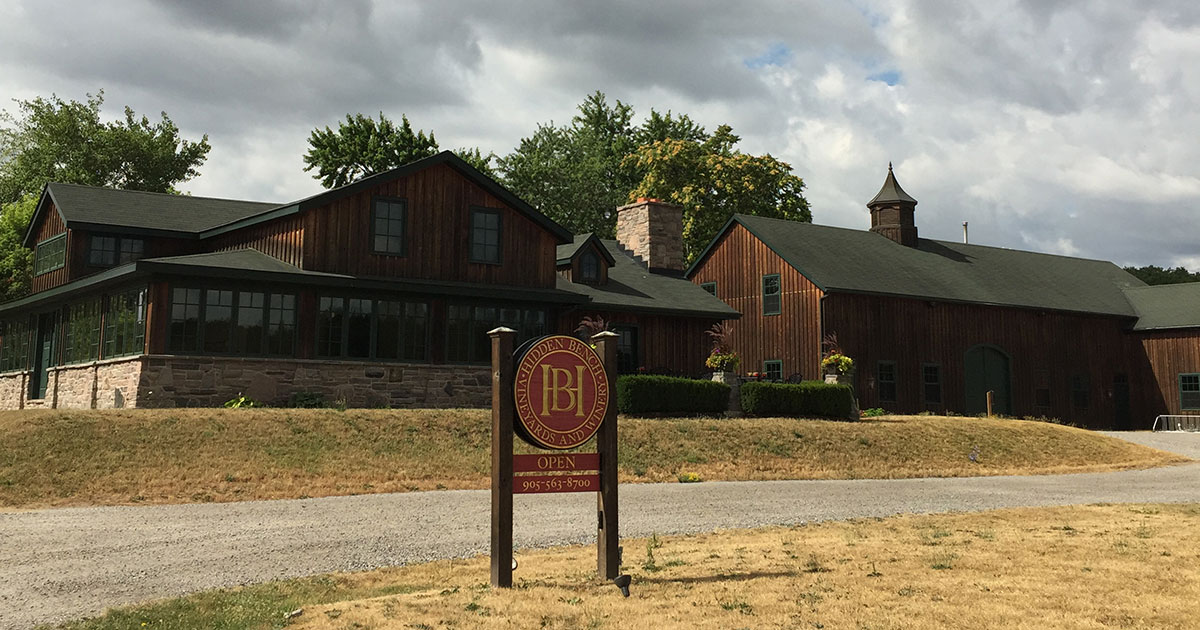 Over the next few weeks, I will be releasing my visits to some of the best vineyards in the Niagara Valley. We're starting today with Hidden Bench Vineyards. I made a map for you to optimize your trip based on your visits (which I should have done myself before leaving). These items will show you Hidden Bench Estate Winery, Rosewood Estates Winery, Dillon's Small Batch Distillers, Redstone Winery, Tawse Winery, Pearl Morrisette Winery, Southbrook Vineyards and finally Stratus Vineyards.
I must say that I did not know all the vineyards I was going to visit before my departure, my friend Stéphane Rochefort told me which I absolutely had to see after making my list, so I added Hidden Bench. A little email later, and this beautiful domain was added to our itinerary.
One thing you will notice on the photos of the various items is the yellow turf, the reason is that there has almost been no precipitation in the Niagara Valley this year. When we were there, it had been about 2 months that there had been no rain on the area.
Discovery of the Wines of Hidden Bench Estate Winery
So we arrive at the property early enough, 10 am (it's the opening time of most vineyards, and we're not the first ones.) So we meet Meg (Harald was not there that day but We returned the next day to greet him and taste the bubbles.) So we begin our tasting with the Riesling of the estate, the Roman's Block and the Felseck Vineyards, something one notices in the Riesling of the Niagara Valley , Is that they are really different from the European Riesling, a taste much more mineral, much less focused on sugar than those of Alsace and Germany. A very pleasant taste that makes easy the appreciation of These wines are unfortunately not offered in SAQ.
To continue, we go with the Pinot Noir. In order, the 2012 Felseck Vineyards, the 2012 Locust Lane and the 2013 Non-Filtered. Pinot Noir of very high-end, majestic wines, in short, they are perfect. Great wines. Nothing to complain honestly. It was my first red of my vineyard tour, and already I was in the quintessence of Canadian wines. The differences between these are subtle, but the year 2012 was a great year for the wines of the Niagara Valley and it shows, these wines can age a long time. The Cabernet Sauvignon (Cab Sau), 13% Malbec), which give a very interesting taste to this wine And makes a great discovery. A wine that does not resemble anything I did not already know, but gathered to familiar tastes.
We left after this magnificent tasting because we had other appointments during that day (Dillon's, Southbrook and Redstone (yes, I made my itinerary all right)). But we returned the next afternoon to meet Harald Thiel, the owner of Hidden Bench (who speaks French), and to taste the beautiful sparkling (Le Natur) of the estate. Canadian sparkling wines and rosés are excellent and rarely found in SAQ.
This sparkling wine was just perfect, rich and creamy, not too acidic, not too sweet. A beautiful blend of Chardonnay and Pinot Noir. To be tasted during your passage on the spot.
The day of our first visit, we headed to Dillon's, a magnificent distillery, making an unexpected stop at Rosewood, our next ticket to come.
Hidden Bench Estate Winery
4152 Locust Lane,
Beamsville, ON
L0R 1B0
Canada