Nespresso Barista Creations on Ice: A coconut-flavoured summer
15:49
updated on Aug Sun 2021 15:02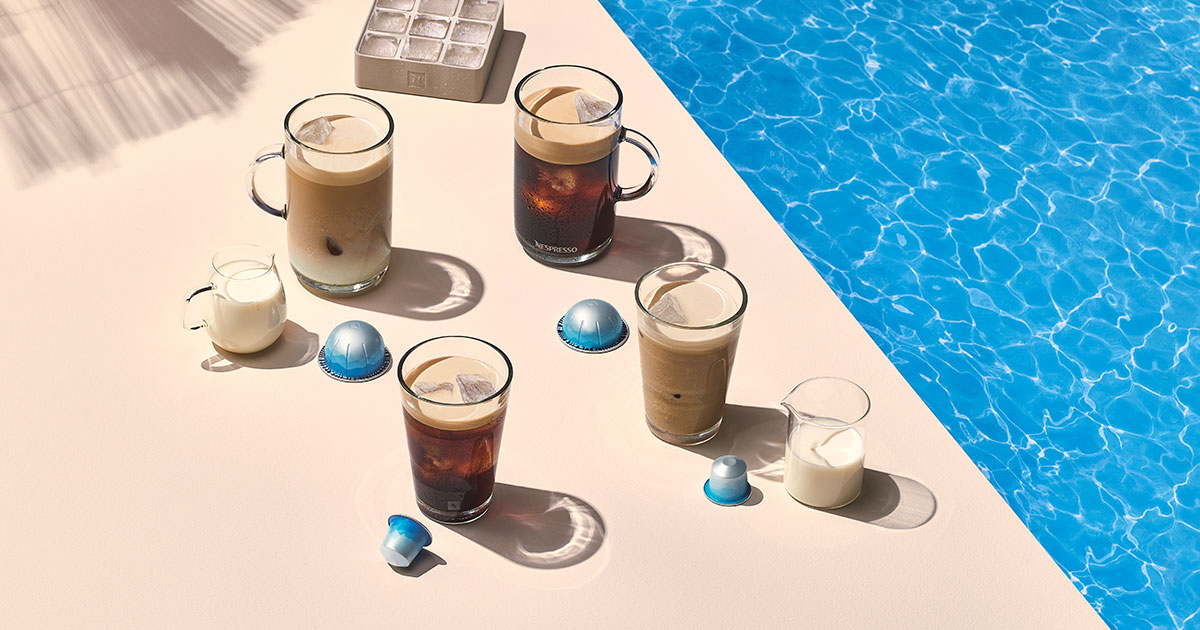 Who says summer, says, for some of us, iced coffees. As a significant part of the population still works from home with the warmth that often comes with improvised offices, Nespresso is returning to us with its annual collection of Barista Creations on Ice coffees.
Nespresso Barista Creations on Ice: An exotic touch
For 2021, it is with an exotic touch (admit that it feels the greatest good to hear this word when most of us have put our trips on pause), namely the new limited-edition Coconut Flavour on Ice capsules for the Original system and the Tropical Coconut on Ice also a limited-edition for the Vertuo system, that Nespresso makes us enjoy summer.
What about these different capsules? For the Original format, the coconut flavour balances wonderfully with the roasted and caramelized notes of the Latin American Arabica-based espresso. As for the Vertuo capsule, it's a blend of Arabicas from Latin America and Africa that sets it apart, accompanied by coconut's refreshing flavour.
Is the coconut not on your palette? Do not be afraid. At the same time, Nespresso brought back two very popular iced coffee blends, Creations Barista Freddo Delicato and Freddo Intenso on the Original system and Barista Creations on Leggero Ice and Barista Creations on Forte Ice on the Vertuo system. Find the same good taste and a whole new packaging for the beautiful season.
Freddo Delicato
This lightly roasted coffee was specially designed to offer delicate notes to your palate. The fruity Kenyan coffee notes of this blend will keep you cool, whether in the sun or at home.
Freddo Intenso
For a more gourmet iced coffee, why not try Freddo Intenso—a blend of Arabica beans from South America and Arabica beans from Indonesia. This coffee transforms into an intense flavour and a full-bodied finish when paired with ice, the perfect accompaniment to a summer afternoon.
Ice Leggero
Ice Leggero is perfect for days in the sun, full of delicate notes of fruity and grain coffee. The latter is lightly roasted and ground specifically to offer that delicate sensation of freshness. When poured over ice, this blend will cool you like the sweetest summer breeze.
Ice Forte
After impressing your friends with your culinary skills, why not finish your meal with an Ice Forte? South American Arabica mixes with Indonesian Arabica to provide a gourmet aromatic experience. Dark roasted and ground, especially for a delicious experience on ice.
Let's finish with recipes to find the perfect taste of these coffees
Exotic Coconut Flavour Macchiato Over Ice
Ingredients
40 ml of Coconut Flavour over Ice Coffee
90 g of Ice Cubes
1 dash Desiccated coconut
100 ml of 1.5% fat cow's milk
1 slice of lime peel
Préparation
Pour the cold milk in the milk frother, and press the Start button to get cold milk foam. Alternatively, use a shaker.
Add the 3 ice cubes, the Saffron syrup and a lime peel into the glass.
Pour the cold milk foam into the glass and mix.
Brew a capsule of BARISTA CREATIONS COCONUT FLAVOUR OVER ICE into the glass.
Garnish with desiccated coconut.
Tropical Coconut Flavour Over Ice Mocktail
Ingredients
230 ml Barista Creations TROPICAL COCONUT FLAVOUR OVER ICE
210 g of Ice Cubes
70 ml of Sparkling Water
20 ml of Monin Tiki Syrup
Preparation
Place the 7 ice cubes into the mug. Pour in the Tiki syrup and the sparkling water. Stir well.
Extract a capsule of Barista Creations TROPICAL COCONUT FLAVOUR OVER ICE over it.
By the way, did you know that Nespresso is a sponsor of the National Bank Open presented by Rogers from August 7 to 15 in Montreal and Toronto?
Nespresso lovers? Learn more about their coffee here
Originally published in Gentologie Magazine Issue 8 – Digital Edition
Share the post "Nespresso Barista Creations on Ice: A coconut-flavoured summer"