Being a Gentleman in 2020, what does it mean?
22:32
updated on Jan Mon 2023 12:30
Ah the big question. We could say things about it. I will take my personal experience, and this towards where I want to go with Gentologie for what it is to be a Gentleman in 2020 (certain things can apply to the ladies who follow us). I'm certainly far from the perfect gentleman, but these are tips I want to apply.
Being a gentleman in 2020: Fashion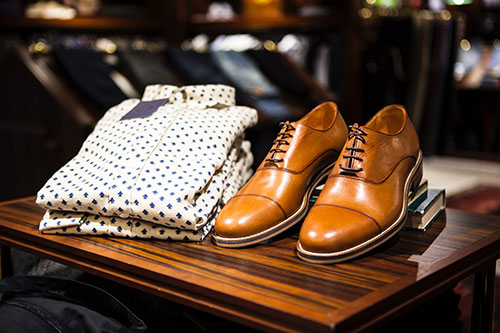 Clothing
If there is often a point, a little superficial we agree, which defines a gentleman, it is the clothes. For my part, I discovered in 2019 the Clusier boutique and I made some purchases there, while staying within my budget we get along. I like Clusier because they sell pieces that are timeless and resistant that can last for several years. I believe it is worth investing in beautiful suits, beautiful sweaters, tailor-made why not, in order to have a classic and durable look. Why not buy local if it is also well made and of good quality.
Spend smartly on your purchases. For example, if you buy shoes, prefer them in leather. Shoes made of synthetic materials which are not from animal sources, therefore good for the environment at first sight. On the other hand, a material like the leatherette for example, it cannot be repaired. So the 200-300 $ (and sometimes more) that you will spend on your shoes, you will not be able to earn it in the long term, you will have to pay for a new pair, and that is not good for the environment, it's called fast fashion. Personally, I learned this lesson the hard way by buying beautiful shoes … in leatherette. Thanks to Patrick Marleau, better known as Valet Cireur , having explained everything to me, I will apply it on my next purchase.
Being a gentleman in 2020: Beauty
Taking care of yourself
Well-combed hair, a well-made beard, smelling good, these are essentials in a gentleman's routine. After the gym, it's the shower. Mandatory. The only time you can possibly make an exception is when you are at home and you are not planning an outing, but remember, FaceTime also exists, so be prepared.
Beauty products
For beauty products, I advise you to go see a professional, professionals from Kiehl's really give professional advice. The Swiss brandValmont also, they own the Valmont Spa at Birks Hotel, is a great resource in terms of beauty products.
The perfumes
When it comes to scents, you need to find something that suits you. It's never easy. My friend Patrick Gagné, fragrance specialist at Holt Renfrew Ogilvy, can certainly help you find the perfect fragrance for you. And dose the quantities well, too much is like not enough.
Good table manners for being a Gentleman
At the table
We can certainly go by all roads to look like know how we use the utensils. But for use, a little tip to remember is to go from the outside to the inside depending on the services. If some utensils can seem intimidating, don't hesitate to ask how to use them.
Wondering when to start eating? If you are at a table of less than eight people, wait until everyone is served. Wait until the person receiving you begins the meal before starting the first bite. If you are seated at a long banquet table, this happens to me frequently in events, you can start as soon as several guests are seated and served. Often the host or hostess will tell you that you can start eating when it's hot, you can always choose to wait for it out of politeness. Buffets, whether at an event or in a restaurant, we leave something for everyone.
Drink
Drinking well is important, it can ruin an evening or a date. Prefer cocktails with a low percentage of alcohol at the start of the meal such as a Spirtz for example or without alcohol based on Seedlip. If you start your evening with an Old Fashioned, it may be less pleasant for your guest when you are going to be rendered to the last service. Do not forget to hydrate yourself well with water throughout your meal. And to make sure you're clean, always wipe your mouth before drinking. And when it's open bar, you moderate yourself, especially if you don't hold alcohol well.
At the bar or at the restaurant ou au bar
The famous question of addition. Do we pay or let everyone pay their bill? I would say that to pay that of the other, it is always seen. But don't be obstinate about that, if the person you are with wants to pay his share, let him do it.
Being a Gentleman when traveling
At the airport or at the train station
In the lounges, sit down so as to take up the least space, your hand luggage under your seat or in front of you, so that you always have an eye on them. You are tired? Do not lie down, rather wait until you are on the plane.
In the registration line, wait for your turn, take out your ticket (the electronic ticket is also very practical) and your identity documents in advance so as not to delay the queue. Have a pocket to put everything, like a Passport Cover, would definitely be a good investment.
Also, this applies everywhere, not just at airports, but be punctual, don't be late, plan your trip, and anything that can happen.
At the Hotell
Being a gentleman at the hotel is easy. Unpacking the bed sheets for housekeeping folks is a little bit less work. Same thing for the towels, we put those that were used in the bath.
Being a Gentleman in the transports
In the plane or in the train
Hurry to get to your seat and quickly put your luggage under it, the people following you will be happy. You want to be efficient, consult the plane of the plane (it is on the websites of the airlines) before departure and visualize your seat. And we wait until the plane is completely stopped before going out. There is often no rush, your luggage will arrive at the same time as you and you will have less time to wait.
In car or taxi
Opening the door of a car is a gallant gesture, many would say, but when it comes to a taxi, it is best to go in first to slip into the back and thus let your guest close the door. This is so that the person does not have to slide along the seat. Nothing prevents you, when you reach your destination, from going out and opening the door.
Being a Gentleman while loving Arts
The Arts
Of course, we are humans and we have different tastes. I would tell you that one thing I hate when I go to see the exhibitions is to see people photographing the works. I don't think it happens. For my part, I sometimes do it, but I only show part of the work, it is never complete. What this phenomenon results from is often a clutter in front of the works, people who use the flash even if it is prohibited. In the end, people go out into the room and 'know no more about the exhibition than when they entered it.
The reading and the writing
While we are a society where people read less and less, knowing the right words to say the right things is essential. Expressing yourself well is a weapon of mass destruction in seduction, it works every time. Often before beauty. Same thing for the words. Spelling mistakes, watch out for spelling mistakes. A little tip, read more. Books, take a look in the library of your neighborhood, you will make great discoveries.
Being a Gentleman while using the technology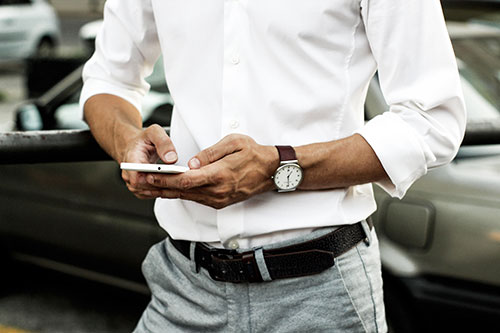 The communications
Try to leave the phone during family discussions. Are you looking for an answer? Trying to find it collectively could also be really interesting.
The dating sites and the apps…
Gentlemen, can the photos at the bottom of your belt be ended once and for all? The only exception is if the person asks you and if you trust the web enough that your photos don't end up somewhere and that it backfires. Because if Desjardins data could have ended up in the hands of people who are not very reliable, imagine your photos in the hands of someone you barely know.
So here are a few tips that I think can make a big difference in 2020. You will have everything you need to be a gentleman and not a classy person. Like I said, I write a little more for the gentleman, but some of the advice applies to everyone.
Want to know other tips for being a Gentleman in 2020? Subscribe to our newsletter!