Caviar bump : A Trend that is all the Rage!
At Gentologie we like to work with the best, which is why we love working with Oysters & Caviar, to be honest with you, dear readers, they are also clients of our media and digital division, Gentologie Media. With them, we learn more every day, and it is a pleasure to know more and more about this high-end product that is caviar (Antonius Caviar and Perlita) and bottarga from Trikalinos (one of the 30 favourite products of the great Ferràn Adria), which they distribute in addition to oysters, as you can imagine. Today, with their support, we tell you about the best places to taste caviar and where you can do a caviar bump.
An article presented by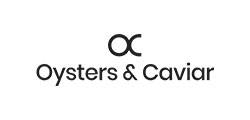 The trend of caviar bump
Before telling you about the restaurants where you can taste caviar, we have to talk about how to consume it, be careful, it can become a real drug (in the positive sense of course).
There are many ways to taste caviar, but, first of all, you need the right spoon, made of mother-of-pearl. It may sound like a pretentious thing to have a spoon to taste something, but it is to avoid oxidizing the caviar when you take it out of its tin. Moreover, in order to know the origin and authenticity of your caviar, it should always have a CITES number (more details on the Oysters & Caviar website) because it is an endangered species.
The most common way to enjoy caviar is on a blini with fresh cream, or with a delicious smoked salmon like those from Monsieur Émile of Percé (in Gaspésie Québec), or as a decoration on a dish.
But, if you are more adventurous, like when we were in Toronto with the Oysters & Caviar team, you must try the caviar bump tasting or as the French expression goes, the"À la Royale", another trend seen in the more chic nightclubs where the champagne flows freely!
What is the caviar bump tasting?
So, what is the caviar bump tasting you might ask, Mr. François-Xavier Dehédin, founder of Oysters and Caviar, explains: "After opening your tin, pour a spoonful onto your fist between your thumb and forefinger, then eat the whole thing with your mouth, all at once. This is called caviar bumping, remember, it's eating (not sniffing) a spoonful of fish roe on the back of your hand, the aim is to heat the product to bring out all the flavours, it's a very sensual gesture, almost aphrodisiac! It may be decadent, but it's an easy way to tell if you like caviar or not. That's why we serve our caviar this way in our tastings." These have become a decadent and different way to consume the luxury product in some restaurants, trendy bars, art festivals and other prestigious gatherings. It's all the rage in New York as this New York Times article demonstrates!
The Restaurants Where to Taste Antonius Caviar, and maybe do Caviar Bumps.
Having tasted a few brands of caviar, one notices the high quality of Antonius caviar from the very first moment, and this is the reason why many great restaurants in Canada serve it. A little tip: it will be very easy to get it at home if you order it directly from the Oysters & Caviar online shop, and even easier if you order the duo. Note that few restaurants in Canada offer  the caviar bump, but you can easily make it yourself if you order a tin. If you're curious, don't hesitate to order the Albino variety, a Canadian exclusive from Antonius Caviar at Oysters and Caviar.
In the Greater Montréal Area
Jatoba
Chef Olivier Vigneault is one of the first customers in Montréal to serve Antonius Caviar, have it with a delicious glass of KRUG.
Joe Beef
One of the great restaurants in Montréal has been serving it for a few months now, you'll love their combinations!
The Marcus of Four Seasons Hotel Montréal
The most luxurious hotel in Montréal has the best caviar on their menu, just ask for it.
Reserve at Marcus of Four Seasons Montréal 
Kabinet
This Eastern European restaurant simply couldn't resist putting Antonius Polish caviar on its menu.
See the article in La Presse (in French) featuring Antonius Siberian caviar.
Ferreira Café
Antonius Oscietra Caviar was in the spotlight at their Grand Prix festivities!
Bistro Kapzak
A chef with Polish origins who is proud to put Antonius on his menu and accompany it with the finest champagnes and vodkas!
Ratafia
Small dishes well done, wine and dessert, at this restaurant in Little Italy we add caviar with that?
Read our article about Ratafia
In Toronto
Alo
One of Toronto's Michelin-starred restaurants offers it in several of their restaurants, they only serve the best.
Make a reservation in one of the restaurants of the Alo Group
Rodney's Oyster House
One of Toronto's largest oyster bars, you'll find products from around the world, including Antonius caviar!
Reserve at Rodney's Oyster House
In Québec City
Laurie Raphaël
Chef Raphaël Vézina works caviar in a very inventive way in his recipes in this now 5 CAA / AAA diamond restaurant, it is always incredibly delicate.
You can find out more about Antonius Caviar and its products here.
Subscribe to our newsletter to be aware of what's happening at Gentologie