Damson Blue Luxe Colour Collection, a novelty from Breville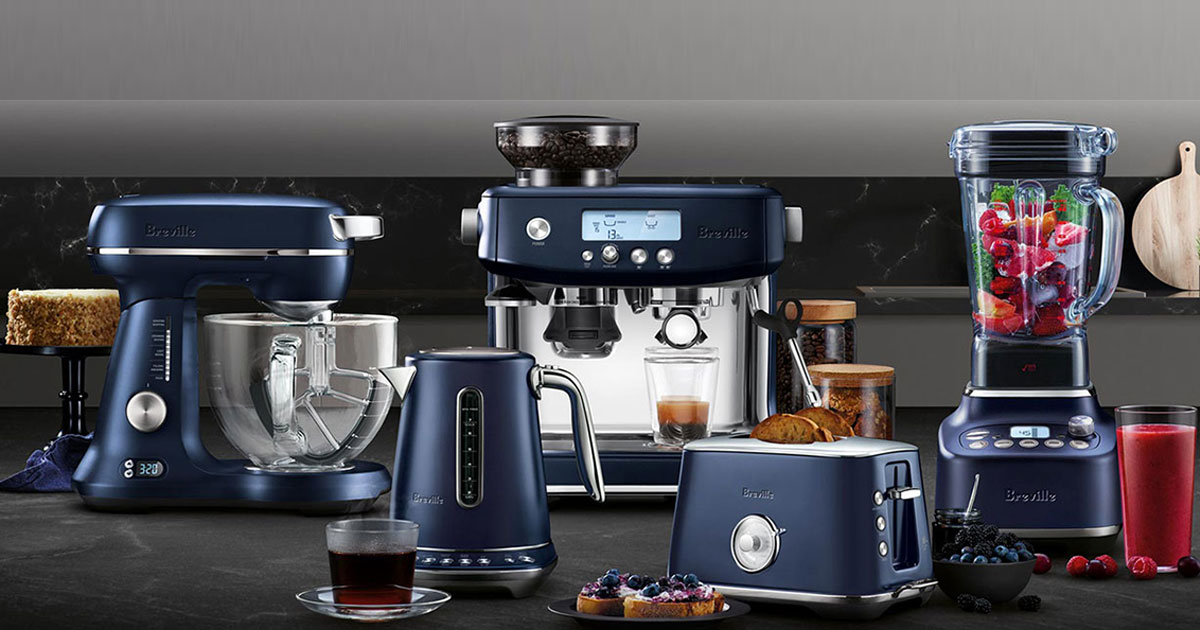 Breville, the premium global kitchen appliance brand, announces the launch of the Damson Blue Luxe Colour Collection. The Breville Luxe Colour Collection is a range of sleek and modern shades available in Breville's 20 top-performing countertop products.
Damson Blue Luxe Colour Collection, a masculine color for your kitchen
The new Damson Blue option is a rich, deep shade of blue designed to add a strong and sophisticated touch of colour that would complement any home or kitchen design scheme. The cool blue hue is evocative of Damson Blue plums or fresh, ripe summer blueberries. Versatile in aesthetic, Breville's Damson Blue appliances are available at select retailers, including Hudson's Bay and online, including exclusive offerings.
Beautiful and durable appliances for your kitchen
The Luxe Colour Collection allows consumers to create a fully colour-coordinated kitchen in five statement-making hues: Damson Blue, Sea Salt, Black Truffle, Smoked Hickory, Oyster Shell and Royal Champagne. Taking inspiration from global colour trends, the shades reflect the timelessness of Breville's signature design aesthetic. And as you know, as there are a lot of us in our kitchen, whether it's cooking recipes, making your morning coffee at home, or reheating take-out meals, good and beautiful accessories are needed.
Even Nespresso's Creatista Plus, which we were telling you about from the limited-edition Aged Sumatra capsule recently, is offered in the Damson Blue Luxe Color Collection.
Boldness in the kitchen with the Damson Blue Luxe Colour Collection
"The newest addition to the Breville Luxe Colour Collection, Damson Blue makes a bold statement that stands apart from the existing line's more muted and neutral, mineral tones," notes Richard Hoare, Design and Innovation Director, Breville. "Yet, all colours in the line are still anchored around a contemporary version of classic elegance and refinement in our high-tech world.
They express a stylish elegance that eliminates the compromise between aesthetics and performance. Now consumers can have the best-performing and most beautiful products to enhance the kitchens and homes they live in."
En accord avec la couleur Pantone de 2020
"On trend with PANTONE 19-4052 Classic Blue, PANTONE Colour of the Year 2020, Damson Blue is a tasteful and self-assured blue hue that denotes chic simplicity," says Laurie Pressman, Vice President, Pantone Color Institute. "Eternally classic yet at the same time highly modern, this versatile blue hue injects subtle sophistication and creative confidence into the kitchen."
Pressman notes that the Pantone Color Institute is seeing the role of colour in home appliances evolve as residential spaces are being enlarged into a fusion of kitchen and living spaces.
As such, the Breville Luxe Colour Collection of appliances, with their evocative gourmet names and organic sophistication, will look stunning on the counter and provide longevity as a timeless colour and design element.
To celebrate the launch of Damson Blue and the newly expanded Luxe Colour Collection, Breville has created an augmented reality app, available via mobile and tablet, to provide you with a 360-degree experience of their desired appliances. You can now visualize placement of selected products in 3D within your own kitchen, and test which colours work best in your home. You can experience the app in real time by downloading it in the Apple Store or on Google Play.
Breville Canada, in conjunction with Canadian retailer Hudson's Bay Company, also planned a virtual launch event via Facebook Live called "Cooking with Colour." The digital event introduced all the ways that colour can be integrated into the lives of Canadians—both in their homes and via the foods they consume, providing insights from both design and culinary perspectives.
Find out more about the latest Breville innovation, it's here
Share the post "Damson Blue Luxe Colour Collection, a novelty from Breville"