Oysters, mignonette, watercress and caviar by Chef Gregory Faye
14:00
updated on Nov Sun 2022 15:15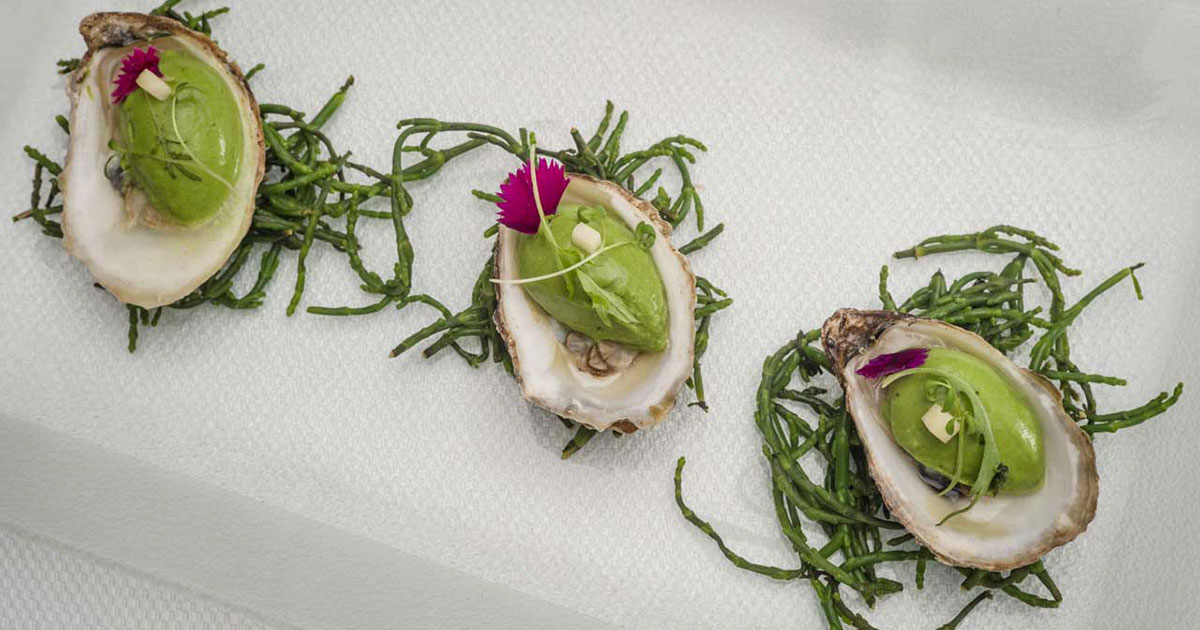 Let's start this Christmas menu with chef Grégory Faye with the first service, appetizer bites made of oysters, mignonnette, and watercress, Acadian caviar paired with the champagne Nicolas Feuillatte exclusive brut reserve.
Ingredients for oysters, mignonnette, and watercress, Acadian caviar recipe
Ingredients for the Watercress mousse:
5 fresh watercress bunches
4 gelatins in foil
400 g + 150g of cream at 35% for whipped cream
400 g of chicken broth
50 g of butter
1 Yellow carrot cut into small cubes
1 white leek cut into small cubes
½ white onion cut into small cubes
Preparation of the watercress green:
Wash the watercress bunches, leave the elastic and trim the green leaves of the watercress only.
Reserve the tails.
Boil salted water and a pinch of baking soda.
Add the watercress heads and cook at moderate boil for 27 minutes. Drain and immerse the watercress heads in ice water (ideally with ice cubes) this will fix the
chlorophyll.
Watercress base:
In a saucepan, melt the 50 g of butter
Add watercress tails and vegetable dice, sweat without staining over moderate heat for 10 minutes
Wet with chicken broth and cream (these items must be warm before wetting), cook 10 min.
Stir often.
Soften the gelatin sheets and incorporate them into the cooking, simmer for 1 minute, stirring during the minute.
Remove 100g that you book for later use
Final mix of the Oysters, mignonette, and watercress, Acadian caviar recipe
Mix in a blender (Vitamix or Kitchen Aid) hot
Add the green of cold cress and mix at full power
You must get a flash green
Season with salt and pepper to your liking
Pour cream of watercress in a bowl with ice cream
Add the 150 g whipped cream
Using a maryse induce the cream of cress, gently mix
Put aside.
By the minute, poach cream on open oysters, some croutons of rye bread would be welcome
Decorate with caviar (optional)
Discover the complete Christmas Menu by chef Grégory Faye
Share the post "Oysters, mignonette, watercress and caviar by Chef Gregory Faye"