The Wonders of Forest by Nespresso for the Holidays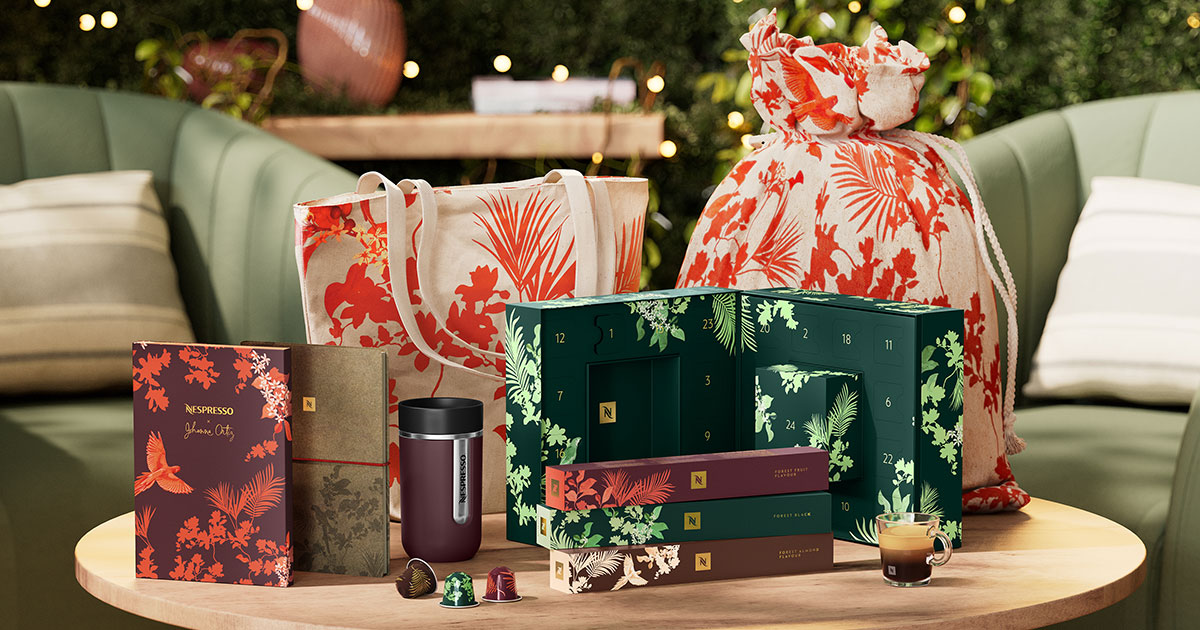 For the holiday season 2021, Nespresso, a brand that gentlemen adore, has teamed up with Colombian designer Johanna Ortiz for the holidays. You will certainly be enchanted by the Wonders of Forest by Nespresso that make up this annual collection.
The Wonders of Forest by Nespresso : To Protect the Trees
Inspired by the beauty and depth of Nature's forests, Nespresso's 'Gifts of the Forest' collection encapsulates the brand's devotion to the precious environment coffee is grown in. The collection features a range of limited-edition coffees for both the Original and Vertuo systems, along with Festive infused accessories, making for delightful and inspiring gifts for family and friends. Coffee lovers can also gift this Festive season knowing Nespresso is giving back to the forest, as the brand goes beyond its agroforestry commitments, by helping to protect 10 million trees in the Amazon. Don't forget that without trees, no coffee.
To bring the design of their limited-edition collection to life, Nespresso has partnered with Colombian luxury fashion designer Johanna Ortiz, whose innovative designs and interplay between nature and sustainability truly transports coffee aficionados into Nespresso's festive universe.
The Different Coffees Inspired by the Wonders of the Forest by Nespresso
There are a myriad of cafes on offer for this holiday season. A festive collection that will please everyone. In addition, the Advent calendar is still available in some Nespresso stores and online while stocks last.
Wonders of the Forest by Nespresso for Original
Flavour Forest Black for Original
A canopy of trees shelters Forest Black's coffees to protect the flavor hidden in each bean. Discover this blend of shade-grown coffees from Colombia and beyond. A spicy espresso, its exotic woody notes will transport tastebuds to the depths of the forest.
Forest Fruits Flavours for Original
Like gems that light up the forest floor, forest fruits are the gifts trees give us. Juicy berry aromas run through this season's flavoured espresso as the South American Arabicas' lingering cereal character takes on a festive sweet pastry note.
Forest Almond Flavour for Original
Forest Almond Flavour is the forager's delight of the season. With the sweet, nutty flavour tucked into this espresso's South American Arabicas, get ready to uncover almond notes marked by vanilla and a light fruitiness in this coffees' smooth cereal character.
Wonders of the Forest by Nespresso for Vertuo
Flavour Forest Black for Vertuo
Forest Black's arabicas from Colombia and beyond grow in the sheltering shade of a canopy of trees that protect the flavours hidden in each bean. Experience this coffee's alluring spice and cereal notes amidst exotic woody aromas that celebrate the magic and timelessness of the forest.
Forest Fruits Flavours for Vertuo
Forest Fruit Flavour celebrates a delightful explosion of colour with a coffee whose flavour recalls the forest floor—teeming with bushes dappled with ripe berries, ready for the picking. This festive flavoured coffee brings those same juicy berry aromas in a smooth cereal-noted base blend of Latin American and African Arabicas
Forest Almond Flavour for Vertuo
Gifts given by trees are no small thing, Forest Almond Flavour celebrates both the harvest bestowed by the forest and the delicious and complex nutty aromas found in many high-quality coffees around the coffee belt. This Latin American and African Arabica blend's inherent cereal character is an ode to harvest season.
Accessories that will make wonderful gifts for the coffee lover.
In addition to its coffee offer, Nespresso is excited to propose two exclusively designed items for the festive season. Shoppers can get their hands on an alluring reversible organic-cotton tote bag as well as a useful notebook made from sustainable materials. Both are decorated with the signature Nespresso x Johanna Ortiz pattern showcasing sweeping forest canopies and capturing the true essence of the forest.
For coffee lovers who like a touch of sparkle on the go
For a limited time only, Nespresso is also revamping its iconic Touch travel mug. This Festive Season the travel mug will be available in a golden color, for those looking for a touch of sparkle while on the go.
Recipes to enhance your holiday season
Nespresso coffee lovers will be able to surprise and delight their guests with delicious coffee cocktail recipes specially designed to enhance the sensory experience. Each coffee-infused recipe has been prepared by Nespresso with the forest-inspired limited edition collection in mind, bringing a taste of nature and sophistication to every drink. For coffee cocktails inspirations. To discover here.
Share the post "The Wonders of Forest by Nespresso for the Holidays"