The perfect autumn boot: How to choose it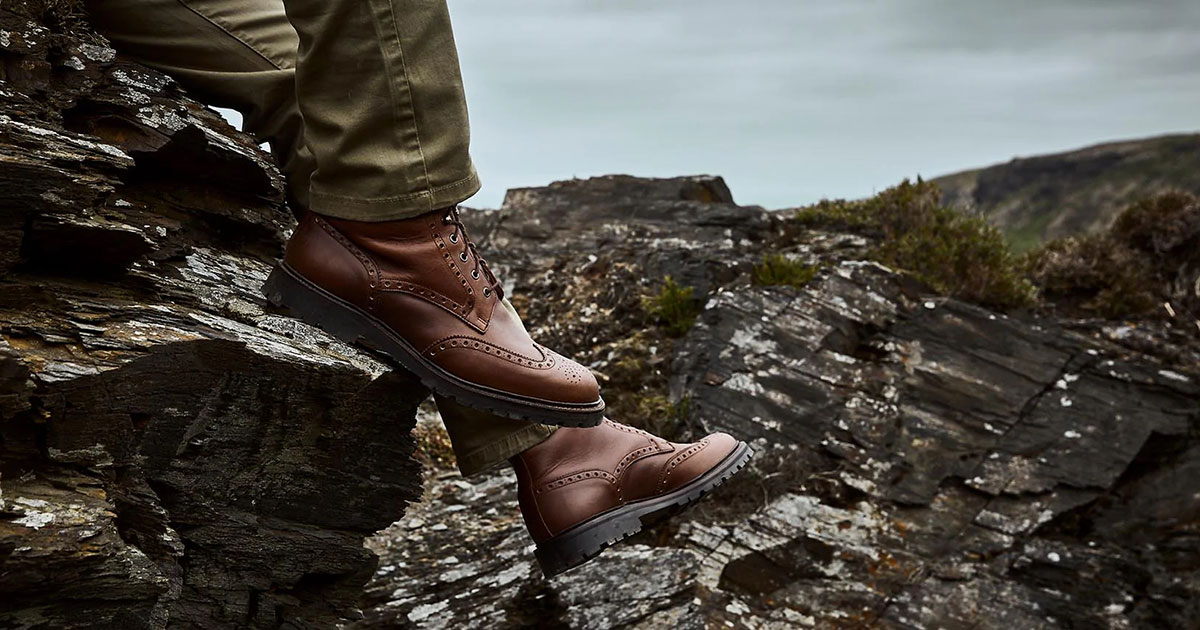 As the temperature continues to drop, reminding us that winter will be with us in a few months, I wanted to give you my tips on how to choose the perfect autumn boot (I also asked Mr. Patrick Marleau from Le Valet Cireur to help me corroborate some of my assumptions). I have to be honest with you, the one I have right now is not the perfect autumn boot, as I've had it for a few years and it's still good, so I'll wait to change it. Also, yes, we do have an article on autumn boots, which you can read here, but a lot of water has passed under the bridge, like autumn rain, since that was published.
Define the occasions when you will wear that perfect boot
It is important to know why and how you will use your boots. Is it for going out, for work, for going to the mountains, just for walking around town or for taking photos of your styles? All of these occasions require you to think about the use of your future purchase(s), as the boot for a Negroni at the Nacarat will not be the same as for a mountain getaway at Mont-Tremblant.
The Material
In response to your reflexion above, it is important to choose the right equipment. To better illustrate our point, as we write more often about urban life on Gentologie, we will talk more about a luxury boot than a mountain boot in this article.
Since rain is often more prevalent in the fall, at least if you're in Canada, you want a well-waterproofed boot. Leather is a preferred material. "You want thick, porous, waterproof leather, not smooth leather (nubuck, suede or suede). Choose a vegetable leather, a raw leather without imperfections (not to be mixed with vegan leather)" says the owner of the shop Le Valet Cireur. He also adds to feel our leather, and to touch it well in order to know the quality of the latter.
Avoid brushed leathers, you'll ruin your boots in less time than it takes to make an espresso, and mixing different leathers. Compare leathers. Some boot manufacturers use poor quality leathers that are patched together to make one, while others favour thicker leathers for their products, our guest told us. Look carefully at the boots, if they already have scratches before you buy them, it is not a good sign. Mr. Marleau suggests luxury brands such as Crockett & Jones, Edward Green, John Lobb, Loake that will last you for an eternity, whereas most brands on the market will only last one or two seasons. He also advises us to use them only in the autumn for the most part, as few models are designed for our winter temperatures. Of course, he tells us to forget about synthetic leather, which cannot be repaired and is often designed for short-term use, and designer brands are also fragile to our climate. Surprisingly, there are few Canadian-made dress boots, at least at the high end.
The Syle
The colour of men's boots can be a complex decision. Try to pick something neutral for a first pair. Something that will go well with what you are wearing either for going out, walking or going to work. Also, as your boots are likely to get dirt, leaves or water stains, they will be easier to care for if they are in shades of black, as brown will show the stains, our boot expert told us. Many boots are beautiful with their different patterns, they will attract the eye and compliments, but they can also be places where dirt can build up quickly. Remember to clean them frequently. We explain the correct technique below.
Soles, to be comfortable with the perfect autumn boot
The outsole. 
While fall weather can sometimes bring surprises in the form of ice or freezing rain, you want to avoid boots with slick soles, like many of the Chelsea models. No one wants to slip on an icy pavement coming out of a bar on a night when the temperature has dropped below freezing. Your feet want something that can grip the ground well, not the sole of a mountain boot, but I'm sure you understand.
Take time to compare. Also look at the side of the sole. With many brands, the side tends to crumble quickly, and that is not what you want. Take a close look at the composition, ask questions, see how the inside is attached to the sole. "When you clean your boot with your brush (more on that below), it's important not to forget the sides where salt or dirt might get picked up. I would like to point out that you have to be extremely careful with your shoes. For those who wear them in the fall, protect the side by wearing an overcoat so that your feet don't get wet, because it's often through the sides that water penetrates, not to mention the snow that burns the leather," adds Marleau. Look for boots with Goodyear hemmed soles (no relation to car tires, you'll learn all about it on the Loake website)
The shoe professional advises us to look for models with a resistant sole, made of rubber. Often with the change of temperature from indoor to outdoor, many soles with fragile materials have a bad habit of drying, cracking and splitting where the foot crease has formed.
In addition, Marleau advises against buying boots with netting, something often seen on Chelsea-type boots, since it is difficult, one, to protect, and two, to repair, since the elasticity of the product is almost impossible to repeat once broken.
The insole
For the insole of your perfect autumn boots, it is important to take a good look at the composition, just like the outsole. Look at the thickness. Judge whether it can crumble quickly whether it can be removed for replacement, or dried.
Laces… or not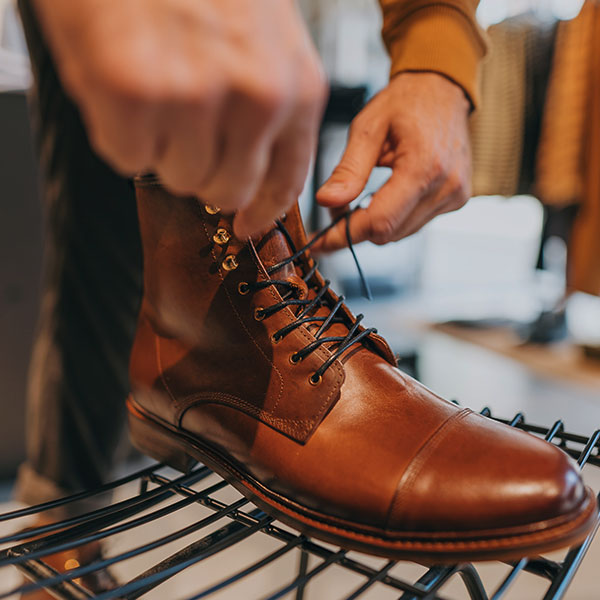 As I mentioned above, the choice of the boot will influence whether or not you have laces on it. If you are going for a Chelsea style, then laces are not an issue here (but watch out for the sole). For boots with laces, look at the quality of the laces. Ideally, waxed laces will be ideal, they'll stand up to the rain and you won't have soggy hands when you take them off. Also, thick laces on walking boots are less elegant than thin laces. You could say: every occasion has its own lace.
The effect of weather on boots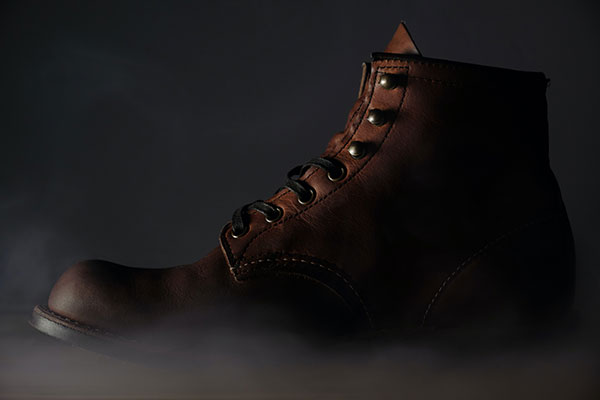 You don't want a boot that's too warm, it's not winter yet with wool inside, you'll sweat and that's never pleasant. "When you put your boots on, the worst enemy is the temperature change between the outside and inside. It's often the action before we put our boots on that will dictate whether we freeze when we get into our cold car, not the boots. To ensure you don't freeze, always take your soles out of your boots to air dry. One thing to avoid is putting your boots and soles close to or on a baseboard heater, as the heat destroys the wool of your boots without it showing, but in the long run, the result is that the boot loses its protective properties against the cold," adds the owner of the Valet Cireur. And choose your socks carefully according to the warmth of your boots. For a warmer boot insulated with fur, choose a thin thermal sock. For a less insulated boot, go for the merino wool sock.
Care of the perfect autumn boot
According to Mr. Marleau's advice, to keep your fall boot perfect for a long time, you must clean it well. Always be on a clean surface. "You start by brushing your boot with a good suede brush, then apply a quality foam like Tarrago (available at Le Valet Cireur), and apply a good protector (not the ones you find in big-box stores or drugstores, look for a shop that specializes in shoes) with a low percentage of silicone, but not too much, because it burns the leather. And it's important that when you apply the protector, you don't place the bottle too close to the leather, as the protector can eventually puncture the leather (John Lobb's website shows you how to do this). You'll be pleased to know that, properly applied, it will protect your boot from drops of ketchup, wine, etc. that you might find in your happy hour," concludes our expert. Did you know that even the acidity of rain stains leather?
More tips for your perfect autumn boot (and your shoes in general)
Always use a shoehorn when putting on your shoes. This keeps the backs strong and sturdy.
Try to wear your shoes dry the first few times.
Leather shoes may need a whole day to dry due to natural perspiration, so try to give them at least twenty-four hours between uses.
Try to avoid excessive wetting. If this happens, always allow the shoes to dry naturally and away from artificial heat. Never place them over a baseboard heater (as mentioned above) as forced drying will make the soles brittle and subject to increased wear. Cedar shoe trees can help dry your shoes, but if you don't have one available, stuff the shoe with newspapers and lay it on its side to allow air to circulate around the leather sole and promote natural drying.
Attaching rubber overlays to the soles or heels can affect the pitch and comfort of your shoes. It can also put excessive pressure on the construction and lead to premature wear so be careful when using them.
Where to find that perfect autumn boot?
A few sites to look out for, yes they are European brand sites, but we notice that the choice of your perfect high-end men's fall boots is quite rare with Canadian companies, at least for a more gentlemanly style.
Crockett & Jones
Edward Green
John Lobb
Magnanni
Loake
To find out more about the Le Valet Cireur shop, click on this link.
Cover Photo: Crockett & Jones