Gin Tonic Week Québec First Edition is from October 16 to 22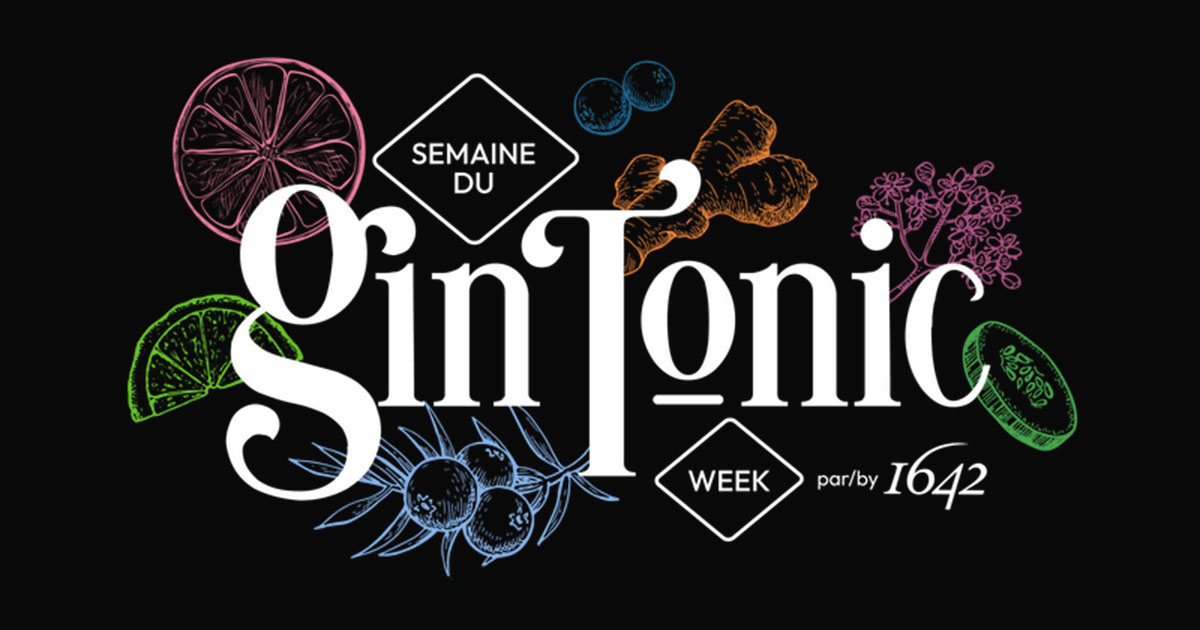 Looking at the number of products on SAQ shelves, the spirit that dominates the field is unquestionably gin! To showcase the expertise of local distilleries, restaurateurs and bars, 1642, a 100% Quebec-based tonic company, is pleased to present The Gin Tonic Week for the first time. The event runs from October 16 to 22. Find out more about the program!
Gin Tonic Week: A program that puts Quebec craftsmanship in the spotlight!
The official Gin Tonic Week launch event: Le Tchin-Gin
On Wednesday, October 18, from 7:00 p.m. to 12:30 a.m., at 8 Queen Street in Old Montréal, embark on an unparalleled sensory soirée! Immerse yourself in a veritable gustatory odyssey in an evening showcasing the craftsmanship and creativity of Quebec gin, thanks to the participation of a dozen leading Quebec distilleries. This is the perfect opportunity to extend your evening until midnight to celebrate the start of International Gin and Tonic Day on October 19.
Can't make it to the Tchin-Gin party? The Gin Tonic Week Tonic has a sparkling program in store for you! Let yourself be tempted by Fizz au féminin (October 16 in Montréal), Gin'To & Tapas (October 17 in Montreal and Québec City) or Ginto'ed (October 19 in Montréal).
Distillery tours and tastings
If you've ever wanted to know what goes into making our columnist Jean-Daniel Perron's favorite spirit, an unforgettable experience awaits you at many of Quebec's distilleries as part of Gin Tonic Week. Exclusive tours and tastings will be organized to give you a taste of the local excellence that has put the province on the map. Here are just a few of the participating distilleries: Distillerie du Fjord (producer of Km 12 and Km12 Cucumbers Gin), Distillerie Puyjalon, Distillerie Wabasso, Distillerie Cirka, Distillerie du Saint-Laurent, Distillerie Club Local (Portage Gin is featured in this recipe) and many others.
Discovering recipes in restaurants and bars
More than forty restaurants and bars, including Humaniti Montréal's H3 Lounge, Le Pourvoyeur (Montreal's gin mecca) and l'Île Noire, to name but a few, will be opening their doors across Quebec to let you taste recipes specially created for Gin Tonic Week. Consumers will have the chance to vote for their favourite cocktail, and three winners will be chosen at the end of the week.