The Best Restaurants to Celebrate Father's Day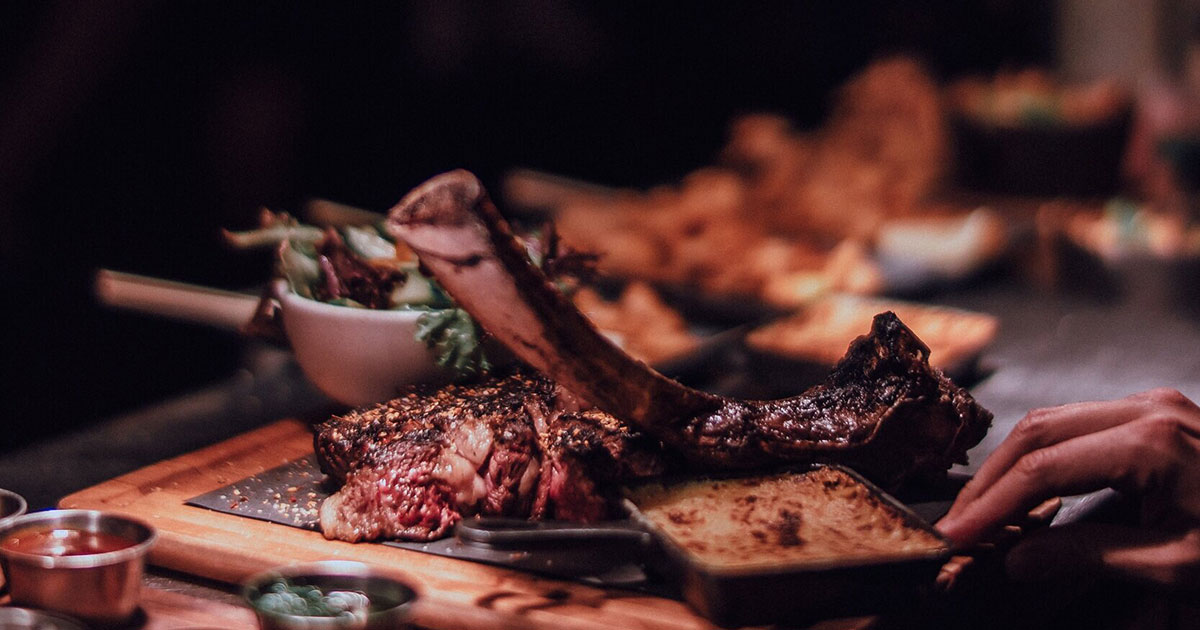 Father's Day is fast approaching. For 2022, the latter coincides with the Formula 1 Grand Prix du Canada, so perhaps the availability of restaurants will be less. So maybe wait until the following week to get a seat at the best restaurants to celebrate Father's Day.
PARK by Antonio Park : The Mastery of Sushi
Of course, we couldn't miss what we think is in the top 3 of the best sushi restaurants in Montréal, but above all, Antonio Park is the star of Gentologie Magazine Issue 10. It's a place where freshness is at the rendezvous, where you will find dishes that are different, with layers of flavours as only the chef can imagine. The terrace is also wonderful. The restaurant is also open for lunch. You can book up to 21 days in advance.
Ferreira Café, the Freshness of Portugal on your Father's Plate
A classic for gentlemen. All the love of Portugal is there. Delicious fish, squid ink pasta, Carabineros shrimp (photo) or octopus freshly imported from Portugal every week. Just a big wow! Not to mention their wonderful terrace and incredible wine selection. Perfect for Dad. Also open for lunch.
Book your table at Ferreira Café
Restaurant H3 and Coureur des Bois, Local Food for your Father
Two restaurants, one fiery team! Whether we're talking about great wines or perfectly executed dishes, Restaurant H3 and Le Coureur des Bois are in a class of their own. The finesse, the taste, these two places (in downtown Montreal and on the south shore of Montréal) are certainly among the best restaurants to celebrate Father's Day.
Book your table at Le Coureur des Bois
Maison Boulud of Ritz-Carlton Montréal, classic and finesse for your Father
A classic in Montréal. From the hands of the great chef Daniel Boulud, you will find wonderfully assembled plates. The luxury of the great French restaurant, in short, find classic dishes extremely well executed. Also, an incredible terrace with a garden will delight your dad when he sips a great red wine or a whisky. You can also take a detour to the local Dom Pérignon bar to start the evening.
Book your table at Maison Boulud of Ritz-Carlton Montréal
Le Monarque Restaurant, French Cuisine at it's Best
Here, it's extremely well mastered French cuisine. A real French brasserie. Two sections, one more classic and the other more bistro. It feels like France. The atmosphere is magnificent. A selection of aged meats that will make your mouth water just looking at them. It's not intimate, it's the brasserie atmosphere that we love to celebrate. Go see Le Monarque Restaurant redeploy its wings after the pandemic. A table d'hôte is also offered for lunch.
Book your table at Le Monarque Restaurant
Toqué!: Fine Dining for the Gourmet Dad
It's hard to miss this Quebec culinary institution. Upscale, always well done, passionate kitchen team led by Chef Normand Laprise. You will live an experience, it is the art of the table at a higher level. Also open for lunch.
Grinder Restaurant: Someone say Meat?
If your dad is a meat lover, you need to take him to the Grinder. It's certainly not the quietest place, but it's definitely one of the best steakhouses in town. Definitely masculine in its atmosphere, wines just like spirits are kings here. The group behind the restaurant also owns a butcher shop of the same name a few blocks away. The pleasure is there!
Gibbys: an Old-fashioned Steakhouse as we like
Open since 1969, so there have been steaks that have passed through this establishment. Here, experience the finest seafood, fresh and flavourful oysters, a wide selection of fresh fish and delicious grilled meats, expertly aged and cooked to perfection as only Gibbys knows how. As you'd expect, here it's freshly baked bread, crunchy dill pickles, croutons as well as crumbled bacon. You have to try their famous Monte Carlo potato. All in all, a very satisfying little throwback that your dad will love. In Montréal and Saint-Sauveur in the Laurentians.
The StoneHaven Le Manoir Restaurant: Eating in a Relais & Châteaux Establishment
Speaking of the Laurentians, continue to Sainte-Agathe-des-Monts at StoneHaven Le Manoir to make your father discover or rediscover the cuisine of chef Éric Gonzalez. We recently visited the establishment. Moreover we tell you about it in the Gentologie Magazine Issue 10. This restaurant is perfect. It works according to the seasons, not to mention the place which is majestic. If your father is a fan of Ruinart, it will be served since it is champagne by the glass. Little advice, let yourself be taken care of by the team, you will have pleasant surprises. It is certainly one of the best restaurants to celebrate Father's Day.
Book your table at StoneHaven Le Manoir
Hoogan & Beaufort: Wood Fire Kitchen and Awesome Wines
As you can see in the photo, taken during a dinner with Antinori, the Hoogan & Beaufort knows how to welcome for special occasions such as Father's Day. With its cooking over a wood fire, it's a must and it's something different that chef Marc-André Jetté has created. In addition, the team recently set up Boucherie Édouard & Léo, online and in stores. So you have many choices with Hoogan & Beaufort.
Book your table at Hoogan & Beaufort
Bar George of Hotel Mount Stephen: The Perfect English Ambiance
Your father is a swears by England? The bar george and its high-end cuisine is a place of choice. Beef Wellington is to die for! Tasty and well-made cuisine with exceptional wines and unlimited champagne, the evenings are never monotonous at the bar george. You must also visit the bar for the cocktail. Learn a bit more about the Mount Stephen Hotel here.
The Marcus at the Four Seasons Hotel Montreal: Freshness and an Incredible View Awaits your Father
The Marcus of the Four Seasons Hotel Montreal is becoming a must for its food, which was already known for its luxury, its incredible view from the terrace and its festive atmosphere. With chefs Jason Morris and S'Arto Chartier Otis in the kitchen, the dishes become marvels. We are beginning to see a true identity define itself for this restaurant which puts seafood at the forefront. Your father will be able to taste the Antonius Caviar from our friends Oysters & Caviar. It's quieter at the beginning of the week or at lunch. They also serve brunch. And their cocktail menu is to die for.
Jatoba: Between intimacy and Krug champagne
We find at Jatoba, a certain kinship with the PARK and the Marcus since the chef Olivier Vigneault rubbed shoulders with the chefs of the two establishments. The room is beautiful, the terrace is incredible. Seafood is always fresh. And as chef Olivier Vigneault is an ambassador of champagne par excellence for gentlemen, Champagne KRUG, your father will find it on the menu, a perfect match with Antonius caviar.
Afficher cette publication sur Instagram
Club Chasse et Pêche: A classic that your Dad will Love
This restaurant has been on the bill for several years (2004) already and without fanfare, it remains a reference. Great wines, perfect plates. On the menu, it's land and sea. You won't be disappointed. This is the perfect place for your father.
Book your table at Club Chasse et Pêche
Laurie Raphaël: When Father and Son are in the Plate
The Laurie Raphaël is a superb restaurant. He celebrated his 30th birthday in 2021. The kitchen is a handover from the father, Daniel Vézina, to the son, Raphaël Vézina. If that's not a dream concept to celebrate Father's Day in Quebec, I don't know what you are. The menu is an experience in itself and you are introduced to a world of local flavours. And Antonius Caviar is also there.
Book your table at Laurie Raphaël
Le Kabinet Restaurant: Caviar and Eastern Europe Flavours
Here, the flavours of Eastern Europe dominate under the aegis of chef Jean-Michel Leblond, in a renovated restaurant (the lustre comes from Ukraine). The winner of "Chef des bois" is a real eye-catcher with flavours from elsewhere. The caviar, whose Antonius, dominates, it was behind his restaurant Tripes & Caviar, moreover, in several forms. The cocktails are good, plentiful, the service is fun. Very festive if your dad likes out-of-the-ordinary experiences. Feel free to sit at the bar.
Happy gourmet Father's Day. Looking for a gift, we have the perfect list for your dad.
P.S. Don't forget that the Formula 1 Grand Prix du Canada weekend is June 19, 2022.
Cover Photo: Karel Chladek for Grinder Restaurant